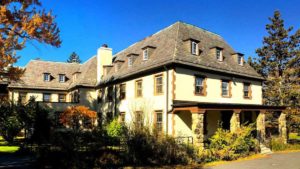 Bethany Arts Community ( BAC ), a new 44,000 sq. ft. multi-arts space just completing its first year of operations, received $202,347 in funding from the New York State Council on the Arts ( NYSCA ). The support comes in three categories. A $7,000 capacity building grant supports BAC's wide range of programming and efforts to determine how to best serve the region's artists and diverse community. A $7,800 rehearsal space grant will allow BAC to offer free and low-cost rehearsal time in BAC's new dance studios to the region's dancers and choreographers. A $187,547 capital project grant will enhance BAC's programming by supporting the purchase of modern equipment for its performance space, automated tools for its shop and maintenance equipment for BAC's 25 acre grounds.
"Bethany is ecstatic to receive NYSCA's support," said David Lyons, BAC's founder and Executive Director. "With limited resources during our first year, Bethany was able to bring over 50 events and programs to our community. This crucial funding will enable BAC to welcome even more artists and bring an even broader range of programs to the community."
During year one, BAC hosted a range of residencies for professional artists who lived and worked on site while engaging with our neighbors, including dancers and choreographers from the world-renowned Bill T. Jones/Arnie Zane Company, musical theater in development from HERE Arts and a women of color writers group. BAC also inaugurated an afterschool program featuring Hispanic music and dance and kicked off adult art courses. Several exhibitions by local and national artists filled BAC's galleries.  BAC presented numerous adult and family-friendly programs in their performance space.
In 2019, BAC will build on the success of its first year. In addition to greatly expanding current programming and welcoming new artists, BAC will make affordable studio spaces available for rent to the region's artists and activate even more of their facility.