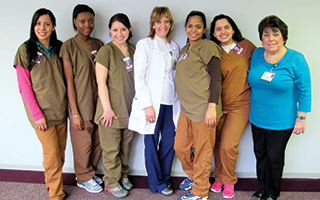 As we head into spring, our area school districts are as busy as ever. This month's roundup includes updates on next year's budgets, student art, the Special Olympics, a nationally-recognized local legend and Yankees manager Joe Girardi!
At right, Sleepy Hollow Students at Phelps Hospital
IRVINGTON
Ambitious Irvington School Budget
The proposed budget from Irvington Superintendent Kristopher Harrison will see a tax rate increase of 3.942%, and a budget-to-budget increase of 4.39%. However, due to the way the tax levy cap formula is computed, the official tax levy increase will fall under the mandated 1.4% cap.
While the normal year-to-year increases take their toll on the budget, much of this year's increase represents a conscious effort to enhance student opportunity. "You have the normal cost drivers: health insurance increases, pension contributions, and contractual salary increments," said Harrison, "but I have to say we have a very ambitious budget before us that puts quite an investment in our student programs and tries to finds opportunities to expand experiences for our students."
Among the new programs is a new writing course for high school freshman that will help prepare them to be effective communicators, as well as an additional technology course, a course in computer animation, and increased staffing for academic intervention at both the elementary and secondary levels.
Additions aside, Harrison understands that the District does have an obligation to its taxpayers. "All of us, administration, board, and community, are obviously very conscientious about the level of taxation. We are making sure that we develop a fiscally-responsible budget," he said.
Irvington Rocks! Anti-Bullying Event
New York Giants punter Steve Weatherford and New York Yankees Manager Joe Girardi will be joining local dancers, musicians, and other artists on Saturday, April 5th at 7:00 pm in the Irvington High School Campus Theater for "Irvington Rocks!" The program, created by the Irvington Diversity Foundation, is an anti-bullying event intended to raise awareness and funds to help end bullying in our schools. Tickets at www.irvingtonrocks.com, or email
Jennifer@ruoff.us or call Bonnie Rofe at (914) 693-3828.
Irvington Fields Project
After an exhaustive study including usage patterns of Irvington's fields, reviews of artificial options, cost comparisons, and more, the Fields Project Committee presented its findings and recommendations to the Board of Education on Monday, March 10. The report contains five main conclusions, which are:
Preservation of East Field as natural grass.
Establishment of an artificial surface at Meszaros Field, with use of an organic infill.
A recommendation against the installation of lights at Meszaros Field.
Replacement of Oley Track within the existing footprint.
A host of smaller recommendations for equipment and future maintenance.
The report is available at www.irvingtonschools.org.
Irvington Girls Basketball Coach Finalist for Best in the Country
Longtime Irvington High School Girls Basketball coach, Gina Maher, was named one of 10 finalists in USA Today's nationwide voting for the Best High School Girls Basketball Coach in America. The voting, which ended March 12, saw Coach Maher placing 8th, capping an amazing run that has seen her teams go 102-6 in the last four years with four straight New York State Federation Class B State championships.
TARRYTOWN/SLEEPY HOLLOW
Sleepy Hollow Freshmen Tour Phelps
On March 4, freshmen from Sleepy Hollow High School were given a unique opportunity to interact directly with healthcare professionals from Phelps Hospital and learn about career possibilities in the field of healthcare. The program, Healthcare Career Day, is just one of the joint programs between Phelps and Sleepy Hollow High School to give students valuable hands-on experience outside of the classroom.
School Budget Gets State-Aided Boost
The upcoming 2014-2015 budget for the Public Schools of Tarrytowns is expected to be a relatively painless one for district taxpayers, due largely to an increase in funding coming into the District from the State of New York. "We're proposing that it will be under the tax levy cap," said Superintendent Christopher Clouet. "It will take advantage of a couple of positive developments, like the growth factor [calculations made by the State]. This year we got a bump in terms of our growth factor resulting in a bump in State aid."
The "bump" amounts to just under $1 million, which will allow the District to add a few positions, particularly in the area of special needs. Specifically, the District is looking to add a "communication needs" classroom for their students on the autism spectrum. "We need to provide for students on the spectrum, whether that's in our District or out of our District, depending on what's available," explained Clouet. "We think it's better for the children to be closer to their neighbors and siblings in the District, and it turns out that's more cost-effective as well."
The end result should be a budget that comes in under the current tax levy cap of 1.4%. "We think that it is only fair to come to the voters with a proposal that will be under the tax levy cap by virtue of their recent support of our capital bond. We're respectful of that and thankful for their support," said Clouet. "It's never easy to do a budget, but this one is less heart-wrenching than it is in many cases."
New Fields Expected Fall of 2016
Three new playing fields supported by the recently-passed school bond should be ready for use in the Fall of 2016, pending approval from the State Department of Education. The fields, which won't appear in the school budget until the 2015-2016 budget, will all be renovated at the same time. They include a new artificial turf field at Sleepy Hollow High School, a new artificial turf field replacing the current lower field at Washington Irving, and a renovated natural turf field and new irrigation system for the upper field at Washington Irving.
A proposal is underway to rename the upper field the Howard Goodwin Field, in honor of the late Mr. Goodwin, a longtime supporter and advocate for the school district.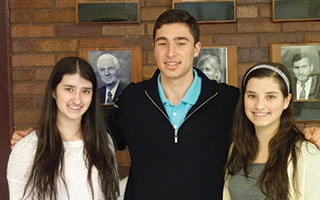 BRIARCLIFF MANOR
Briarcliff High School Announces 2014 Valedictorian and Salutatorians
Briarcliff High School announced Caterina Florissi as its Class of 2014 valedictorian and Isabella Florissi and Eric Wasserman as co-salutatorians.
Caterina is co-captain of the Briarcliff High School tennis team and has received NYSSMA awards for piano. Active in the community, she achieved her Gold Award as a Girl Scout by initiating a free tutoring program in the Ossining Public Library. She was also named as a Presidential Scholar, has received Congressional awards and would like to enter the field of pediatrics.
Eric worked for two summers at Yale University's Batista Lab, where he conducted computational chemistry to improve the efficiency and sustainability of fuel cells and solar power. He is co-president of the Chemistry Club, and participated in the U.S. Chemistry Olympiad, advancing from the local to the national level.
Brazilian-born Isabella is a member of the tennis team and has participated in the sectional competition. Her Gold Award project for Girl Scouts, titled "Project Health," is reflective of her involvement with providing healthier food options for the less privileged. In addition to receiving Congressional awards, Isabella completed an Intel project involving the response of R249P53 mutants to NSC319726 treatment. This study, concerning a protein in cancers, proved that R249 Codon is not involved in zinc bonding, which can be useful information for future drug development.
Todd School Art on Display at Briarcliff Public Library
During the month of March, a sampling of student artwork from Todd Elementary School will be on display on the second floor of the Briarcliff Public Library. Featured artwork includes conceptual work on a variety of topics, including warm and cool colors, pattern, paper weaving, watercolor painting, drawings of cylindrical cakes, and contour line trees. The artwork will be on display through March 31.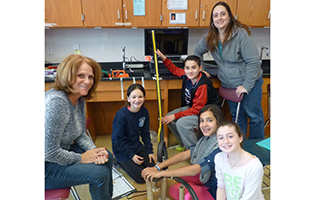 Middle Schoolers Take Physics for a Ride
Sixth-grade students in two classes at Briarcliff Middle School became masters of their own amusement park recently, through a two-week project that challenged them to design, finance, project-manage and build their own roller coaster.
Working in teams of four or five, each team had to design their track and build it according to requirements. Working with a budget of $18,000, the teams "purchased" land for their coaster, as well as track, stands, and attachments (in the form of pipe insulation, paper towel tubes, and masking tape). The "car" (a marble) needed to go down a hill, turn, go through a loop, and go over at least one additional hill.
The project was a hit, as students worked diligently to get their marble to survive their track and land in a paper cup. "We saw how kinetic and potential energy affect each other," said Jacob Lazarus. Added fellow student Skylar Kamen, "The hardest part of this project was coming up with a design to make the roller coaster fast and efficient. There was a lot of teamwork."
Briarcliff Manor Author Puzzles Kids at Todd Elementary School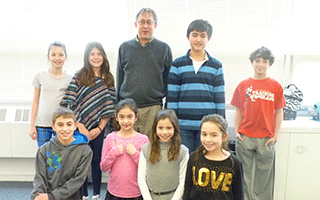 Last month, author Eric Berlin (The Puzzling World of Winston Breen) brought his love of mind-bending puzzles to fourth- and fifth-graders at Todd Elementary. In anticipation of his visit, students created their own puzzles, which were then reviewed by Mr. Berlin who selected eight winning puzzles from among the entries. The winning students – Harrison Beckler, Allie Bell, Chloe Goldstein, Noreen Hussain, Trevor Lazarus, Isabel Schumacher, Brenu Tepedino, and Ella Weinstein – were treated to lunch in the library with the author.
Mr. Berlin discussed flexible thinking and the importance of creative problem solving, giving historical examples and leading students through a number of puzzle-focused games and activities. "Every creative thing you do teaches your brain to think creatively," he explained.