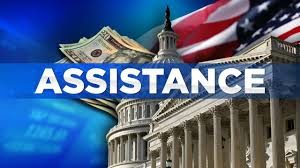 Last week Greenburgh Town Supervisor Paul Feiner announced  that he was going to organize an effort to help federal government employees who have been furloughed and facing financial troubles. Although he hasn't been overwhelmed with requests he did get an email from a Dobbs Ferry resident (last name and contact info delete).  If you would like to help her please e mail Mr. Feiner (pfeiner@greenburghny.com) and he will forward her contact info to you.
See below for more from Mr. Feiner about the Dobbs Ferry family in need of assistance as well as a list of resources being offered to furloughed federal employees that he compiled.
If you are a local business that would like to offer assistance to furloughed employees in our towns during the shutdown, please contact Mr. Feiner (pfeiner@greenburghny.com).
Dear Mr. Feiner,

I saw your post on Nextdoor and wanted to reach out regarding my family.  My husband, daughter, and I are Dobbs Ferry residents and live at the apartments on Beacon Hill Drive. My husband works for Homeland Security and has been working without pay since the shutdown began.  We had just welcomed our first child (a baby girl) on December 14th right before the shutdown.  We had previously planned to have him work overtime since my job does not offer paid maternity leave.  Instead I am on short term disability and only receiving a percentage of my pay.  While this is a joyous time in our lives, we have been experiencing financial stress to make sure bills and rent are paid on time.  We have been dipping into our savings to help with these costs for now.  Any other support the community can offer would be greatly appreciated during this time for us.  Thank you again for thinking of the federal employees and their families during this time.

Sincerely,
Stephanie   IF YOU WOULD LIKE TO HELP STEPHANIE PLEASE E MAIL ME AT PFEINER@greenburghny.com and I will forward contact info to you…
Some benefits available for people who work for the federal government and are furloughed or out of work
Fubars Government Meal Plan: Entrepreneur Michael Sinensky, who owns hospitality company Simple Venue, is offering an array of specials and free services for workers affected by the shutdown. In order to take advantage of the so-called Funbars Government Meal Plan, workers need to email shutdown@funbars.com or call 212-677-2900.
Free entry at New York-Historical Society: Furloughed employees with a valid federal ID can bring one guest with them to the museum, located at 170 Central Park West, for free. The "Harry Potter: A History of Magic" exhibit, however, is not included.
Hudson News discount for TSA and customs workers: Hudson Group, which owns Hudson News stands in the city's airports, is offering workers with the Transportation Security Administration and U.S. Customs and Border Protection a 20 percent discount on all food, drinks and "core store products."
Brrrn complimentary workout: Affected federal workers with a valid government ID can blow off some steam with a free workout from Brrrn at its flagship studio, located at 107 W. 20th St. in the Flatiron District.
Free admission at BAM Rose Cinemas: Federal workers impacted by the shutdown can enjoy a healthy dose of escapism at BAM Rose Cinemas, located at 30 Lafayette Ave. in Brooklyn. The theater is offering free admission, Monday through Thursday, to the first showing of any film currently playing. To take advantage of the offer, workers must present a federal employee ID at the box office.
Hunger Free America's Fed Food hotline and website: Federal workers and contractors can call 855-859-4647 or visit HungerFreeAmerica.org/FedFood for help finding food resources that are closest to home.
Free massage in Brooklyn: Three clinical massage studios in Brooklyn – Massage Williamsburg, Massage Greenpoint and Massage Outpost (DUMBO) – are offering free one-hours massages to federal workers who present a government ID when they arrive for the session. The offer lasts through Jan. 20. Workers can make an appointment online or call a specific location to reserve a time.
Meal delivery via CookUnity: CookUnity, a service that connects New Yorkers with private chefs, is offering federal workers impacted by the shutdown a free meal delivered to their door.
Madame Tussauds free entry: Fifteen Merlin Entertainments, which owns Madame Tussauds attractions nationwide, is offering furloughed federal workers free admission to the famous Times Square tourist attraction. Workers must show a valid government ID to obtain a free ticket.
Cell phone service: Most of the major wireless providers, including Verizon, Spring and AT&T, are working with government employees, offering short-term assistance or flexible payments.
Car Payments: Several auto lenders are offering payment relief to workers affected by the shutdown. Several companies, such as Toyota, Ford, Hyundai and Mercedes-Benz have options such as payment deferrals and late fee waivers.
New York City's homepage for federal shutdown resources: https://www1.nyc.gov/nyc-resources/federal-shutdown.page
——————————-
Headquarters, Army Emergency Relief (AER) has released guidance to provide financial assistance during the Government Shutdown for Furloughed Federal Employees who are also Army Reserve Soldiers. AER assistance can be requested for basic needs items such as food, utility payments and fuel. Key item to know:
1. Assistance may be provided up to $600 to meet basic living expenses.
2. All assistance will be as an interest-free loan.
3. Loan repayment will begin 1 March 2019 for 10 months at $60 per month. Shorter repayments are acceptable if individual so wishes.
4. Documents Required:
a. ID Card.
b. Copy of furloughed notification.
c. Copy of LES (current members of reserve component)
d. AER Form 501 (Supplementary Promissory Note) with document validating bank account and routing number
5. Should the shutdown continue, additional assistance can be considered for each pay period.
Eligible Soldiers interested in applying for assistance should contact the AER office at the Army installation closest to them. If you live closer to an installation from another military branch, their respective Military Aid Society office (AFAS/NMCCRS/CGMA) can start the process. Soldiers that do not live near a military installation, can contact the American Red Cross to initiate the application process.
—————————————
M&T Bank located at 11 West 42nd street is offering low interest loan of 2.5% to employees affected by the partial government shutdown.  Loan amount can range from $2,000 to $25,000.  For further information contact Assistant Bank Manager Tamara Morrison at 212-921-5606.
Salvation Army offers to pay for electric, gas bills for furloughed workers
As the lapse in appropriations continues, any additional assistance or support programs offered will be sent as they becomes available.
Assistance programs
CreditCards.com created a new guide to help federal employees affected by the government shutdown recover from any financial setbacks that may have hurt their credit, which provides a wide range of financial tips that those recovering from the shutdown would find helpful.
"Federal employees: How to rebuild your credit after a government shutdown" discusses how to evaluate your current financial circumstances, recover from negative credit marks, and prepare for unexpected financial situations in the future.
https://www.creditcards.com/credit-card-news/rebuild-credit-after-government-shutdown.php
Bank of America: The bank's Client Assistance Program is offering personalized financial assistance and can be reached at 844-219-0690.
Chase: The bank announced its efforts to help its customers who are U.S. government employees on Dec. 22 and is encouraging customers to call a special care line at 888-356-0023 to discuss available hardship programs. The help also is available for customers who do business with a federal agency that is also affected, Chase said in a statement.
Congressional Federal Credit Union: Furloughed employees and those working without pay can apply for the "Relief Line of Credit" with an interest-free rate over 60 days.
Discover: Impacted federal workers who are Discover cardmembers or have a loan with Discover Bank may be eligible for assistance such as skipping a payment and having late fees and interest charges reversed if they miss a payment because of the shutdown. To request assistance, call 800-347-2683.
FedChoice: The Federal Credit Union has several options listed in its Furlough Center at www.fedchoice.org.
Marcus by Goldman Sachs: Eligible government employees impacted by the temporary government shutdown may be eligible for a payment deferral on their Marcus loan and savings customers may be eligible to have early withdrawal penalties waived. For request assistance and to discuss options, call 844-627-2876.
Navy Federal Credit Union: Impacted union members who have direct deposit of their government pay may be eligible for interest-free loans. Government contractors may be eligible if their direct deposit is received directly from the federal government and will be impacted by a government shutdown.
U.S. Bank: The bank created a new, low-rate quick loan for federal employees affected by the shutdown. It is available to customers with any U.S. Bank product, including mortgage, auto loans or U.S. Bank credit cards, the company announced. The designated federal government shutdown line is 877-760-6046.
U.S. Employees Credit Union: Impacted union members who have direct deposit of their government pay may be eligible for interest-free loans. According to its website, the Government Shutdown Loan is to be "repaid in 60 days or when the government processes back pay, whichever is sooner."
Wells Fargo: The bank says it "will work with individuals and business banking customers whose income is disrupted as a result of the shutdown." Customers should call 1-800-TO-WELLS, or the number on their credit card, debit card or statement for assistance, or visit any Wells Fargo branch. Mortgage, loan, and credit customers may qualify for forbearance or other payment assistance programs based on their individual circumstances, the company posted on its website.
Unemployment benefits: According to a U.S. Office of Personnel Management fact sheet, federal employees may be eligible for "Unemployment Compensation for Federal Employees," which is administered by state unemployment insurance agencies. The fact sheet notes "the law of the state in which an individual's official duty station in Federal civilian service is located will be the state law under which an individual's eligibility for benefits is determined."
Wireless providers
AT&T: Customers affected by the shutdown are eligible for flexible payment options to keep service including cellphones, television and internet running. Make payment arrangements online at www.att.com.
Sprint: "Our Care reps will coordinate with qualified customers and our financial team to find a payment option that works and keep your service uninterrupted during the government shutdown," Sprint said in a statement. Impacted customers should call 888-211-4727 or do an online chat at www.sprint.com.
T-Mobile: Short-term account assistance can be tailored to meet the needs of customers who are federal workers, T-Mobile said, noting options include payment deferral and "flexible payment options" that allow customers to spread their service payments over time." The company is also offering support to government account customers. Customers can call T-Mobile Customer Care to discuss options at 611 from a T-Mobile device or 877-746-0909 from any phone.
Verizon: The company announced flexible payment options and a "Promise to Pay" program that can be set up in the My Verizon app or website. Further assistance is available by calling 866-266-1445.
Community Phone: The Boston-based company told USA TODAY it is offering furloughed, federal employees in Massachusetts "a full contract free year of unlimited everything" and "to all furloughed in all states, a free $100 of credit for a no contract, no credit card required service on our nationwide networks." Learn more at www.communityphone.org.
BAM Rose Cinemas: At New York's Brooklyn Academy of Music movie theater, furloughed federal staffers can see the first show of the day of any film Monday through Thursday for free when they present a federal employee ID at the box office, according to this blog post.
Brickwall Tavern: The restaurant's three locations are offering federal workers with a valid ID a percentage off of their food bill starting Tuesday, Jan. 15, day 25 of the shutdown, with a 25 percent discount. Each day the discount will increase through the end of the shutdown, the company announced on Instagram. Locations are in Asbury Park and Burlington, New Jersey, and Philadelphia.
Fazoli's: Through Sunday, Jan. 20, participating Fazoli's restaurants nationwide invite furloughed federal government employees with a valid ID to come in for a free Pizza Baked Spaghetti with the purchase of a regular-size or larger drink. There's a limit of one meal per eligible guest per day.
Java Joe's Cafe: The Saint Ignace, Michigan restaurant is giving local Coast Guard, Homeland Security officers and National Forest Service workers a free breakfast, according to a Facebook post.
Kings Dining & Entertainment: With a government ID, get two free games and shoes Monday through Thursday from open to 6 p.m. at all locations, a Kings representative told USA TODAY. There are Kings locations in Massachusetts, Florida, Illinois, North Carolina and Tennessee. Must mention the promotion, which cannot be combined with other offers or on holidays and is "first come first serve."
Massage Outpost: Through Jan. 20, three Brooklyn massage studios – Massage Williamsburg, Massage Greenpoint and Massage Outpost-Dumbo – are offering free one-hour massages to furloughed government workers, a $120 value. By appointment only and appointments can be made online or by calling the preferred location. Present your government ID prior to the session.
Mid-Hudson Children's Museum: The Poughkeepsie, New York museum is holding its next "Federal Workers Free Pizza and Play Family Night" Wednesday, Jan. 16 starting at 5 p.m. and will offer free admission for two adults, one of whom must be a federal employee, and their children living in the same household. The event is free, but pre-registration is required and a federal ID will be needed to enter the event. Learn more on the museum's Facebook page including a link to register.
Modern Market Eatery: The chain with a D.C. location, restaurants in Maryland, Colorado, Texas and Arizona, is giving a free grain bowl to federal employees Friday through Sunday from 5 p.m. until close when they show their federal government ID. Excludes airport and university locations.
Museums: Many attractions outside D.C. are also offering free admission including many in Colorado, the Denver Channel reported, and the Phillip and Patricia Frost Museum of Science in Miami, Florida.
Poke3: The El Paso restaurant chain is offering a free bowl, a $7.95 value, to employees with a government ID, every Saturday and Sunday at all locations until the government shutdown ends, according to the El Paso Times.
Rocco's Tacos: Through Sunday, Jan. 20, furloughed government employees that show proper identification will be entitled to a $20 dollar one-time credit at any of the Rocco's Tacos locations in Florida or New York.
Simple Venue: Entrepreneur Michael Sinensky's  New York hospitality company Simple Venue is offering free meals at his New York restaurants until the government reopens or government workers pay is reinstated in what is being called the "Funbars Government Meal Plan." Sinensky's restaurants include Juice Shop stores, which are giving away free juice for breakfast, Sushi by Bou in Flatiron giving away lunch, and government employees can get a free entrée and a Bud Light draft at Sidebar, a sports bar in Union Square. To participate and learn more, affected employees should email shutdown@funbars.com or call 212-677-2900.
Stouffer's: The frozen prepared food company founded in Cleveland, Ohio, is giving away frozen meals Wednesday, Jan. 16 from 10 a.m. to 7 p.m. to federal government workers who visit the company's Solon headquarters, according to its Facebook event page.
More deals: Other restaurants are offering specials or support for furloughed government workers. Search social media with terms like #ShutdownSpecials or Google furlough freebies, shutdown assistance with the name of your city.
Nationwide deals
Harlem Globetrotters: Any furloughed government employee can show their valid government ID at their local box office and receive two free game tickets to the team's 2019 Fan Powered North American tour, according to a news release. The offer is only valid during the government shutdown and not valid on previously purchased tickets. Quantities are limited and seat locations vary by venue. The release said fans should check with their local box office for details.
Hudson Group: This deal is for TSA and customs employees. The Hudson Group, which has more than 1,000 stores in airports and transportation terminals, is offering TSA and customer workers 20 percent off food, beverages and core store products when they present their TSA or Trans border ID. This special will continue until the end of the shutdown.
Notarize: The online notarization company is offering free notarizations during the government shutdown for all federal employees who sign up for an account with a .gov email address, according to a company blog post at www.notarize.com.
Rosetta Stone: Furloughed government workers can get a free three-month online subscription. Email your name and validation information to expandyourworld@rosettastone.com. Learn more here.
Sky Zone: At participating Sky Zone parks, federal government employees furloughed or currently without pay and up to three immediate family members can get 60 minutes of free play every Tuesday through Thursday in January. Sky Zone socks are required but you can reuse SkySocks from previous visits. Valid government ID required. Learn more at www.skyzone.com.