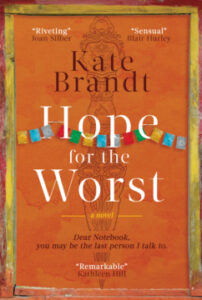 In her novel Hope for the Worst, Kate Brandt, a resident of Montrose, tells the story of Ellie, a 24-year-old stuck in a dead-end job and questioning the meaning of life when she meets the much older Calvin, a habitue of Greenwich Village whose wisdom, born of Buddhism, is exactly what she's been seeking. The book asks how far we'll go for love, and what happens when we reach our limit.
Kate Brandt is a writer, adult literacy teacher, traveler, and student of Buddhism. She is a graduate of the MFA Writing program at Sarah Lawrence College whose work has appeared in literary journals.  
[tinted box with book cover]
Hope for the Worst
by Kate Brandt
> Publication March 7, 2023
> Vine Leaves Press
> Paperback $17.99
> Ebook $5.99
> katebrandt.net 
Our Q+A with Kate Brandt
River Journal North (RJN) > How long have you been writing?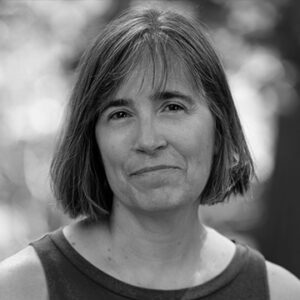 Kate Brand (KB) > I've been writing since 1986, when I backpacked across the world.  I was watching a woman in Zimbabwe walk along the platform of a train station as my boyfriend and I waited for a train that was already hours late.  She was wearing high heels, and the leather along the heel was peeling.  This unexpected detail drew me in.  I sat down with a notebook and began to write.   
RJN > How long did it take to write your book?
KB > Almost 10 years, with the help of my writers' group of women, many of whom live in Westchester County. These true friends read draft after draft, gave advice, and supported me through the difficult moments. My biggest struggle was with shaping the story—understanding what needed to be there, and what should be left out. 
RJN > Tell us about your writing process. 
KB > With this novel, I was fairly disciplined.  I work four days a week as a teacher trainer at the City University of New York Adult Literacy Program.  On my day off and weekends, I wrote for at least three hours every day.  I am a morning writer—I need to start fresh.  I often wrote sitting up in bed.  My cats were very pleased with this.  
RJN > Any advice for writer's block or other writing challenges?
KB > Write with your heart.  Find the thing that matters to you the most, and write about that.  
RJN > Is your book self-published (i.e., did you pay to have it published)?
KB > No. It is being published by a small, international press. I submitted the manuscript to about 20 literary agents, but none showed interest, so I sent it to small presses. I feel lucky that I was picked up by Vine Leaves.  I can't say enough good things about them.   
RJN > What attracted you to this region?
KB > I have a long history in Westchester.  I grew up in Shrub Oak, in a big house across from the John C. Hart Memorial Library, so I have a lot of memories from this area.  I also attended college here—SUNY Purchase.  I lived in New York City from 1983-2003, when my son turned three, and we moved here for the schools.  I had the opportunity to move back to the City when I got divorced, but I had become too fond of trees.  One of my favorite thing about living in Montrose is that I can go out my front door and walk to the Hudson River.  
RJN > Do you have favorite local hangouts ?
KB > I love the atmosphere in Peekskill. I enjoy Peekskill Open Studios, for instance—but probably my favorite aspect of living in Westchester is the many places where I can take long walks—Teatown, Blue Mountain, Montrose State Forest, Turkey Mountain, North County Trailway—the list goes on.