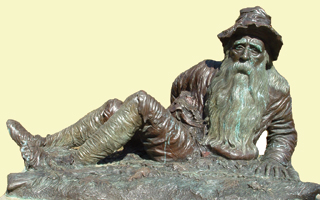 Two months into the 2012-2013 fiscal year (that began June 1) the Village Board of Irvington has enumerated 5 major areas of focus that they will regularly attend to at work sessions and Board meetings. Within the 5 areas are different measures or efforts that they will take to achieve their priorities.
To preserve and protect the quality of life in the Village, to provide affordable housing opportunities for residents and the region, to improve the economic vitality of the downtown area, to deliver efficient services while maintaining a solid financial footing, and to become more sustainable as a community, make up the current focus of Irvington's government.
Regarding affordable housing, the Board would like to create an Affordable Housing Committee that would promote the concept on a grass roots basis and make recommendations as to where such housing either exists or could be built. In the words of one Village official, "Irvington wants to become more diverse," and is willing to implement robust legislation to promote affordable housing. There are some parameters in the Village Code that allow for such housing and the Board wants to increase those parameters. With Westchester County needing to implement 750 units of affordable housing, Irvington stands ready to work cooperatively with them and has passed along three potential sites. At present, the County is in dialogue with developers interested in building on those specific sites which are a combination of fallow land and land with existing structures. Affordable housing incorporates both rental and home ownership and is tied into a percentage of the median income within the County.
[blockquote class=blue]In the words of one Village official, "Irvington wants to become more diverse," and is willing to implement robust legislation to promote affordable housing.[/blockquote]
Turning to Irvington's downtown and its vitality, the Board has focused on the Historic District Committee and its activities. That Committee has been set up to explore the possibility of creating an historic district and to look into whatever regulations might be attached to such a designation. The Board wants to preserve and enhance Main Street's historic character and has identified that as a goal. The Village would also like to publish a "user-friendly guide" for potential new business owners to help them navigate through the various regulations that exist in order to conduct business on Main Street. The Village is quick to point out that they are not eliminating regulations, simply making them easier to understand and adhere to. Irvington is also modifying their signage regulations to create a consistent and "tasteful use of signage." The Board's efforts are not to have everyone's signs look the same, but rather to prohibit signs that would detract from the character of Main Street. In another effort, Irvington is working with Dobbs Ferry and Hastings and has formed the Rivertowns Tourism Board with those Villages in an effort to attract more visitors to their downtowns.
A top five priority of another kind, the ever present Village Budget process is underway in Irvington. A draft budget was presented to the Village Board at a work session on July 11. This is the second year in a row that Irvington has taken an early look at the numbers, and although it is decidedly a very preliminary budget, the dollar amounts reflect being over the tax cap by $156,000. Once again, the primary drivers are health insurance (an estimated 13.3% increase) and retirement costs (likely to exceed a 2% increase). It should be noted that the current numbers are all estimates and will be refined as the year goes on. Irvington came in below the allowable tax cap by $182,000 with its last budget and intends to do everything possible to follow suit again according to one Village official.