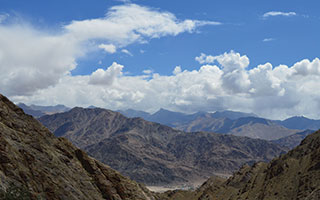 Having been born into a family of physicians, health care has been an integral part of our lives.  More so, my father, a family practitioner, always believed that providing care for those who cannot get it easily is part of our responsibility as health care providers; volunteering and providing free care was always a big part of his life.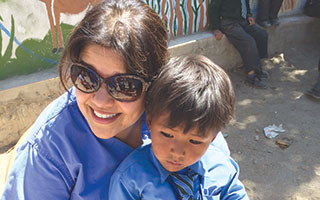 I must say that I have been very fortunate to have trained on three different continents and have been an oral surgeon and a dentist to many people of different races and nationalities.  It has always been my dream to go back to India to help children who are denied access to regular dental care.  I was very fortunate to have my dream come true this summer when my son, Vinay and I did just this – we joined a group of oral health care providers, who went as part of a Global Dental Relief Team to provide dental care to the Ladakhis, the local people in Ladakh, India.
Global Dental Relief's mission is to bring free dental care and oral hygiene education to thousands of impoverished children in Nepal, India, Guatemala, Vietnam, Kenya and Cambodia.  Volunteer dentists, hygienists, assistants and non-dental volunteers deliver treatment and preventive care in dental clinics that serve children in schools, orphanages and remote villages. All Global Dental programs are run solely by volunteer contributions, and therefore, each program has a fee.  It was a considerable expense for me to take my son and myself, leaving my own practice for ten days, but my most capable team held the fort with remarkable skill.
Nestled in the magnificent Himalayan mountains, at the border of Tibetan China and India, Leh is at an altitude of 11,500 feet, with a population of 260,000.  Situated about 5 miles from the Indus river, this town provides breathtaking views with the most colorful flowers, and willow and poplar trees set against the mountain ranges with a backdrop of blue skies.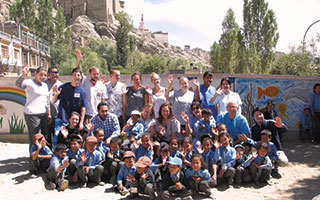 Our group consisted of people from all over the world – from the US, Canada, Europe and Asia (India) – and of all age groups, with the youngest volunteer being 13 years old and the oldest 65 years old.  All shared the common thread of wanting to give back and to provide gentle, timely care to our little patients.  Our group leader, Dr Mark Lisagor, a pediatric dentist from California, has been with Global Dental Relief for several years now and has been involved with the Ladakhi mission for close to ten years.  To help him provide leadership, we also had Rebecca Crump, a hygienist from San Diego.  It was amazing to see how borders and barriers all melt when people from different cultures and countries meet for a common altruistic purpose.  Mother Teresa  said, "It's not how much we give, but how much love we put into giving."  It was truly this that we all  experienced during our stay in Ladakh.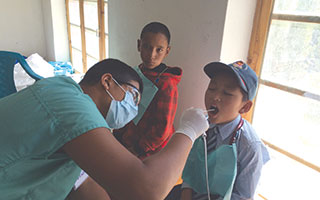 We stayed in a modest lodge, "The Snow View Hideaway," run by David with the most pleasant and courteous staff ever. The building that we used for our clinic was a short walk – 10-15 minutes away from the lodge that we stayed in.  Each day, we walked to the clinic, returned to the lodge for lunch, and then walked back again for the afternoon session.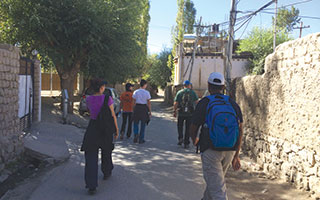 [blockquote class=blue]"We make a living by what we get. We make a life by what we give." — Winston S. Churchill[/blockquote]The make-shift clinic was very impressively set up by Dr. Mark and his team of very dedicated and hardworking helpers. Well-organized and functional, it was simply-equipped but complete for providing basic dentistry.  Every day, buses would arrive with children, either school children or little monks.  Most of them, if not all, were unbelievably well-behaved, good, cheerful children.  While they waited for their turn in the dental chair, they played outside in the sunshine and then came in to be taught how to brush their teeth, with the help of our lively young volunteers who sang and used puppets.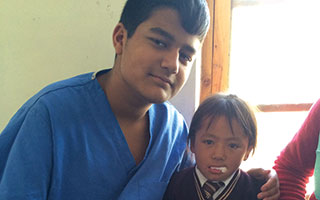 My thirteen-year old son, Vinay, was a great volunteer (even though I say so myself), eager to help, enthusiastic, friendly and very helpful with the children.  He has been to India several times to visit our family so he was well-accustomed to how things worked; however, volunteering in a dental clinic was a whole new experience for him.  Right from setting up and cleaning the "operatory," to assisting, he helped the team, sometimes soothing a crying child or holding the hand of a nervous one. It showed him how little these children expected and how a little went such a long way to make them happy.  A truly unparalleled experience for him, I must say.
It was not always hard work.  We took the opportunity on our time off to visit some of the beautiful Buddhist monasteries on foot and learn more about Buddhism.  It was a time of reflection for us, to pause and delve into our inner selves and ponder our spirituality.  Soul-searching – that was what I felt when I entered the serene and peaceful atmosphere of a monastery.  One could feel the closeness to the supreme force, whatever one's religion might be.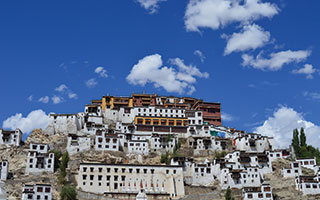 All in all, it was a very rewarding experience for everyone.  We all consider it a blessing to have been able to provide care for these children.  St Francis of Assissi said, "For it is in giving that we receive," and that was what we all came back home with — we had received true love and gratitude from these children and people, and serving them made us feel that we had spent those ten days of our lives really well.
Thank you to everyone for their support, monetary or otherwise, and encouragement which made all of this possible!  We now look forward to our next mission trip!
[blockquote class=blue]r. Bijoor practices pediatric dentistry in Briarcliff Manor.[/blockquote]D