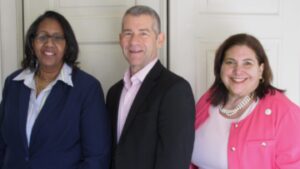 To commemorate National Mental Health Awareness Month in May, the Clear View School & Day Treatment Center is hosting a fundraising event to spotlight the importance of good mental health in children, adolescents and teens.
The event will take place on Thursday, May 11 at Crabtree's Kittle House in Chappaqua, New York. Cocktails and hors d'oeuvres begin at 6:30 P.M., followed by dinner. Guests can enjoy the spring evening on the patio overlooking the lush garden, place bids on unique auction items, and meet the Clear View School administrators, staff and event honorees.
Volunteer honoree Marlene Cheatham is president of the board of directors of the Association for Mentally Ill Children (AMIC), non-profit sponsor of the Clear View School. For nearly two decades, Ms. Cheatham has lent her experience and leadership skills to ensure that children with emotional and psychological disabilities receive the services they and their families need.
Corporate honoree Charles Newman Co. has been delivering health insurance and employee benefits to Clear View staff for 15 years. During this time, Chuck Newman and Vice President Ilana Arbeit have supported school activities. Says Mr. Newman, "We work to save the school as much money as possible, knowing that every dollar saved goes directly to helping the children grow, thrive and lead productive lives."
"At Clear View, we strive to help students reach developmental and emotional milestones," says Executive Director Catherine Borgia, "When the mind is healthy, learning comes more easily."