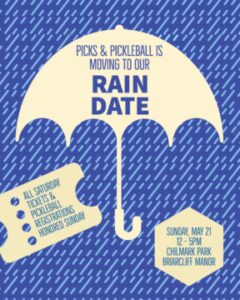 Mother Nature just won't cooperate for the Picks & Pickleball Festival originally scheduled for this Saturday, May 20 at Chilmark Park in Briarcliff Manor. With a 70% chance of rain forecast for Saturday, the organizers have decided to move the Festival to Sunday, May 21 from 12-5pm. All the musical acts scheduled to appear will still be there – The Dan Zlotnick Band, Christine Chanel & The Roster, A Million Sweethearts and the School of Rock Briarcliff house band. The Pickleball tournaments will start at 10:00am as originally planned.
"We are working with all our partners to make sure the Festival goes off as planned, just one day later," said River Towns Music Group's Liz Goodyear. "The Pickleball tournaments will go off as planned thanks to Cross Court Pickleball, Captain Lawrence will be there in force to make sure everyone has plenty of great beer and we may even add another food truck or two to the mix. And we've added a couple of new activities to our Kids' Zone including a selection of inflatables and lots of sensory play activities."
All tickets for Saturday will be honored for Sunday and tickets are still available for purchase at picksandpickleball.com/tickets. Tickets will also be available at Chilmark Park throughout the day Sunday.