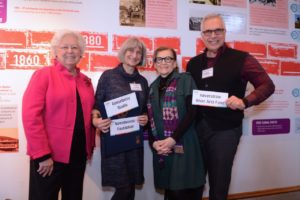 ArtsWestchester today presented 60 "Arts Alive" grants totaling $105,000 to help fund more arts workshops, free concerts, theater performances, children's murals, film festivals and much more throughout Westchester and Rockland counties. Administered by ArtsWestchester, the 2019 Arts Alive grants are funded through the New York State Council on the Arts with the support of Governor Andrew Cuomo and the New York State Legislature.
"The Arts Alive grants are so diverse and so reflective of our communities here in Westchester and Rockland counties," said Janet Langsam, CEO of ArtsWestchester. "The arts are alive and well, and we are especially thankful to all of our state reprentatives who continue to support the arts with this important funding. So many exciting and vibrant cultural programs will come to life thanks to these grants, which will continue to foster community engagement, spur economic development and enrich our overall quality of life."
New York Senators Shelley Mayer and David Carlucci and other notable dignitaries and business leaders joined ArtsWestchester's Board of Trustees to present the grants. The event took place on today in the ArtsWestchester gallery in White Plains.
Arts Alive grants are awarded in three categories: Arts Alive Project Grants ($1,000 to $5,000) to provide county-based organizations and artists with financial and technical support for projects at a grassroots level; Arts Alive Artist Grants ($2,500) to support works that relate to the community in a significant way; and Arts Alive Education Grants ($1,000 to $2,500) to provide support for partnerships between individual artists or cultural organizations and local public schools (grades K-12).
Arts Alive grantees are chosen through a competitive process that includes a panel of community members and arts professionals. For more information, visit artsw.org/artsalive. Some examples of this year's funded projects include:
ArchForKids (Ossining and New Rochelle) – ArchForKids will provide programs for underserved children to explore architecture and design. At the Ossining Library in August, teens will construct life-size chairs out of cardboard strong enough to support their own weight. At the New Rochelle Library, ArchForKids educators will lead two "hands on, minds on" architecture camps for kids ages 7-12. These programs are free of charge and expressly for children whose families cannot afford other summer enrichment activities.
Rebeca Tomas (Peekskill/Sleepy Hollow) – "Yo, También," an all-female Flamenco work with live dance and music from members of the A Palo Seco Flamenco Company, will pay tribute to women's rights, with an eye towards the Me Too movement. The creative process of this work will be open to the public through open rehearsals and work-in-progress showings, followed by a final performance open to the public.
The following are the 2019 Arts Alive Grant awardees in Ossining, Tarrytown and Sleepy Hollow:
2019 Arts Alive Project Grantees:
Andrea Elam (f/a Ossining Library) (Ossining)
ArchForKids (f/a Ossining Library) (Ossining)
GoJo Clan Productions (Ossining)
Ossining Documentary & Discussion Series  (f/a Ossining Library) (Ossining)
Ossining Public Library (Ossining)
Rivertowns Village Green (Tarrytown)
Sidra Bell Dance New York (Tarrytown)
Warner Library (Tarrytown)
Westchester Collaborative Theater (Ossining)
Arts Alive Artist Grantees:
Pablo Mayor (Tarrytown)
Rebeca Tomas (Peekskill/Sleepy Hollow)
For a complete list of awardees, visit artswestchester.org/grants/arts-alive-grant-program