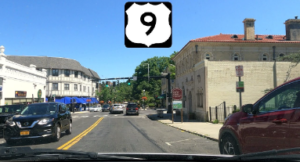 There is much interest among residents of Sleepy Hollow, and many of the Rivertowns for that matter, in finding solutions to our ongoing traffic and pedestrian safety issues on NYS Route 9. In Sleepy Hollow, our situation is particularly dire as the state road bisects our Village, separating various tight knit neighborhoods from schools, Downtown and from each other.
The Mayor and Board of Trustees routinely fields questions from residents regarding Route 9 and we are forced to frustratingly reply that the road is wholly governed by the State of New York. In particular, the NYS Department of Transportation has singular authority over the design of Route 9. Only Governor Hochul's authority exceeds that of the DOT.
A citizen's committee of representatives of the Rivertowns from Hastings to Sleepy Hollow have worked hard over the past several years to get the attention of NYS to improve Route 9. And with the Leadership of NYS Senate Majority Leader Andrea Stewart-Cousins, Route 9 is slated for a full redesign effort. We thank our Senator for the special attention she's paid to this critical issue. We are elated, but not without frustration for the DOT.
For over a decade, Sleepy Hollow has advanced at its own cost traffic studies and redesign efforts at various locations along Route 9 within our Village. Most of these efforts have either been dismissed or ignored by DOT. Only now are we finally receiving attention from the agency.
It is critically important residents in Sleepy Hollow and the other Rivertowns pay close attention to the work DOT will commence this spring. An engineering firm has been hired by DOT and public outreach and communications efforts will begin shortly. Sleepy Hollow Trustee Jared Rodriguez was appointed by the Board of Trustees as Trustee Liaison to an emerging intermunicipal working group focused on ensuring the public's voice is heard and holding DOT accountable for its design choices.
The agency shows a pattern of not advancing best practice design and routinely prioritizes truck and traffic throughput over pedestrian safety and smooth traffic flow. Sleepy Hollow is not a conduit for trucks. We are not a highway on-ramp. We are a thriving and diverse community that wants the option to walk and cycle and the peace of mind that our children are safe when they walk to school. We want a NYSDOT that recognizes climate change, follows the guidance of the Climate Leadership and Community Protection Act, and holds itself to a standard higher than the poor planning and design so common throughout New York State. We cannot afford to continue the mistakes of the past. NYSDOT must do better.
Submitted Respectfully,
Ken Wray, Mayor
Denise Scaglione, Deputy Mayor
Tom Andruss, Trustee
Jared Rodriguez, Trustee
Sleepy Hollow