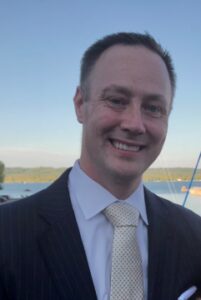 [Ed. Note — This letter was submitted to River Journal by Martin Rutyna, who is running for Mayor of Sleepy Hollow. You can read a letter from Mayor Ken Wray HERE.]
My wife and I have been proud and passionate residents of Sleepy Hollow since 2017.  I am an Executive Director in automotive consulting and have been successfully building, directing, and leading groups over the last 18 years. As a volunteer with the Sleepy Hollow Fire Department, I've gotten to know and work alongside many Village residents and have developed a deep appreciation for this community.  I would like the opportunity to help maintain the strong and unique aspects of Sleepy Hollow while planning for its long-term success and sustainability.
As Mayor I would prioritize expanding and diversifying our local economy.  Sleepy Hollow has more debt than its larger neighbor Tarrytown.  There are a total of 62.5 million dollars of bonds outstanding, 11 million more than Tarrytown currently reports, and more borrowing will be needed to complete development of the new Sleepy Hollow Common. While it takes spending to develop a robust community, we need a fiscally responsible government that doesn't require an undue tax burden.  To offset this debt, I plan to focus Sleepy Hollow on the economic development of Beekman Ave and the emerging waterfront.  An assistant administrator should be hired to focus on this economic development, responsible for assisting potential businesses.
We can't afford for the Village's development to be haphazard. It must be guided by our comprehensive plan and combined with a detailed long-term plan for the Village that together will shape our future decisions.  I will also pledge to improve accountability and transparency into Village management, planning, spending, and related municipal affairs.  I will utilize technology to make it easier for residents to be kept up-to-date and provide feedback.
I look forward to leveraging my skills and experience while serving our community and working with fellow residents to identify and achieve common goals.
Martin Rutyna, Sleepy Hollow