"Now shall I walk or shall I ride?
'Ride,' Pleasure said;
'Walk,' Joy replied." 
― William Henry Davies, Welsh writer and walker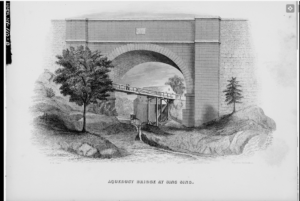 Everyone has favorite spots on the Aqueduct trail, like Irvington's Octagon House, or near the dam, or over Ossining's Double Arch Bridge. But to a true wanderer, the Ossining section offers real variety. Take the Sing Sing Kill Greenway, a charming dash of watery nature right downtown. It's a good reason to explore Ossining on foot, via the main Aqueduct trail and connecting links like the Greenway. Startling echoes of old aqueduct lives linger nearby. Native American oysterers, the newly freed, bygone gentry, and rowdy immigrants all jostle for attention as you explore old Sing Sing (the name changed to Ossining in 1901). And the convenient north-south axis lets you look around without getting lost. 
The new (2016) Greenway is an elevated walkway running alongside the kill, which glides under two gigantic stone arches and heads towards the waterfront. The walkway descends into a steep natural ravine, yet is handicapped-accessible.  Children love spotting the big spill-off pipe from the weir, and locating neighborhoods from the bottom of — gasp! — a proper gorge. Lucky commuters even take this shortcut to the train. Several sections of damaged hand railings are scheduled for repair.    
Luckily Sing Sing Kill was never buried under apartments or landfill, as was done to the waterway through Yonkers. Instead, a spindly, wooden overpass spanned its waters by the early 1800s. Eventually this became today's traffic-bearing Broadway Bridge arch, one of two that cross over the Greenway. Above the bridge arch, the larger arch conceals the aqueduct conduit and provides views from its own, 536-foot-long walkway. Broadway Bridge, now under renovation, is scheduled to reopen by late summer. 
The town's own microbrewery, Sing Sing Kill Brewery, sits close to the trail. Another fun reason to walk the Aqueduct in Ossining is to slip, time-bandit-like, through the centuries on a guided tour. There's the horror of cholera and municipal firestorms (among New York City's fabled water woes) to contemplate. Sint Sinck Native Americans caught shad off today's Crawbuckie Park and Beach Road. Wealthy families decamped from miasmic Manhattan to Ossining's shores. In fact, tales abound of an exceedingly prosperous river town. Brandreth's Vegetable Pills, made on Water Street, were sold from Maine to Mexico.  Sing Sing appealed to preacher and Civil War veteran Henry Duers, surely one of the ablest ex-slaves to call New York State home. Immigrant tales include those of a Scottish aqueduct engineer, plus Irish laborers and southern Italian stonemasons. These men built the Old (1842) and New (1890) Croton Aqueducts, and the New York Central and Hudson River Railroad line. Many of their descendants still live here. 
Visiting the weir chamber atop the Double Arch Bridge is another popular Friends' tour. The chamber opens into the tunnel, which, just to the north, conveys drinking water to Ossining — the only Westchester town to claim that distinction.  
The Friends' six-mile "Weirs to Beers" walk will be offered several times in 2019.  Many free walks and tours are provided along the 41 miles of the Old Croton Aqueduct (see aqueduct.org). Self-guided groups can use our two maps, of the Westchester and Manhattan sections, with plenty of stories and way-finding details. Maps are sold online or at the Keeper's House Visitor Center in Dobbs Ferry…. Now go out and start walking!