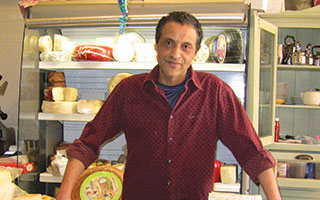 Tarrytown, New York has become a destination by all accounts. New York State considers it a transportation hub, Metro North has offered numerous express trains from its tracks, the Music Hall attracts concert goers from as far away as Ottawa, Canada (this writer sat next to two), historic venues dot its boundaries offering seasonal showcases, and then there's Main Street. This street has become a role model for other villages trying to emulate the mix of shops and restaurants so vital to a commercially strong and attractive inner-village.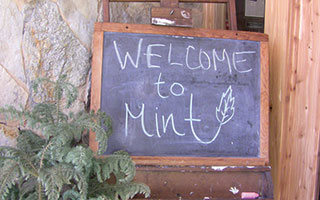 At right, Hassan Jarane
One particular shop is an eclectic mix of creativity coupled with extraordinary cuisine. It is Mint Premium Foods at 19 Main Street. To know Mint is to know its owner Hassan Jarane and vice versa. Born in Casablanca, Morroco (one can see Ingrid Bergman through the mist and hear Humphrey Bogart, in one of the finest classic films), Jarane attended the Academie Royale des Beau-Arts in Belgium where he studied photography. "I developed an itch to come to the United States and in 1984 I landed in San Francisco. I was twenty-four years old and I wanted to live the California dream," he said before adding, "When you think of California you think of the sun with people outdoors skating and doing things. When I arrived in San Francisco it was the fall and I remember how cold it was and then there was the fog. I asked myself, 'Am I really in California?' I will never forget that," he said with a knowing smile. For the next nine years he lived in the "City by the Bay," then moved to New York City in 1993. The weather on the east coast proved to be a reality check as well.
"It was the Blizzard of '93. I remember Times Square being closed and there I was walking around with my portfolio," he said incredulously.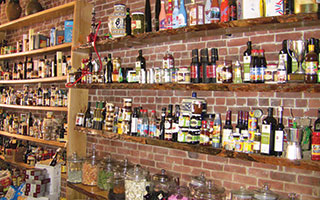 Jarane found work in the City through the commercial photography outlets of corporations, magazines and advertising agencies. "I basically worked for every major magazine and along with Microsoft and Nike photographing for their print ads. This work lasted basically until 9/11, and the events that happened caused a mid-life crisis for me and I lost the passion for photography," he added.
Hassan Jarane had always been a self-described "foodie" having spent years in Belgium with fine cheeses and great beer. "In the Belgium winters I would always go to a small market owned by a couple and the aroma of the cheeses was fantastic. I can still see it and I can still smell it to this day," he said. He moved to Westchester and opened his first store on the corner of Main and John Streets in Tarrytown. "In those days I can remember people laughing when I told them I was opening a cheese store. They felt it was way too sophisticated for the Village in 2003," he said. When asked how he came to name the store Mint he told of seeing a sign outside a market saying, "Mint–50¢." It clicked. He also remembered how challenging it was to start a business from scratch and to educate people about what he was offering. "Everything was cheese. It came from Holland, Spain, Portugal and even Tibet. You name the country and I was getting cheese from them. What many people don't know is that to import cheeses you have to get a license and it's tougher than getting a wine importing license."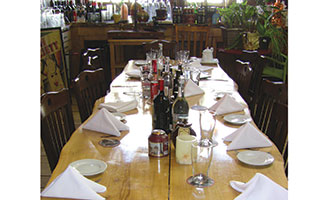 In addition to the cheeses he imported, the narrow 600-square-foot Mint also had olives, dried fruits, rotisserie chicken, sweets, coffee and a host of other unique foodstuffs that spilled out onto the sidewalk of Main Street. It became a market, a bazaar, a destination where you found delicious tastes rarely, if ever, offered before in Westchester. The store was profitable in its first year. If success breeds success then the move across Main Street into the new 2000-square-foot Mint proved the statement true once again. In short, Mint became a destination. One only has to walk in and visually take in its style complete with an entire red brick wall that is adorned by bottles, tins and packages of food. Then there's the counter where breads, olives, meats and cheeses prevail. Tastings take place for each cheese, and their origins are shared by Mr. Jarane before orders are placed. He greets each customer with "Mademoiselle, Madam or Señor" and customers smile as they sample different flavors and textures. In essence he wants them to feel like they are visiting him at home and dining with him. At the rear of the store that homestyle ambience is apparent. Tables are arranged in such a way as to foster relaxation and preparation for a grand culinary time. "I want this part of Mint to be like a living room where people sit without a TV," he said. "This is how I work. I do my best every day and think about how to serve everyone who comes here," he said.
Every inch of Mint Premium Foods has shown that Hassan Jarane has indeed thought about service to his customers. The menu for lunch, brunch and dinner is dynamic, diversified and delicious. The market side of Mint is equally abundant with choices that offer one-of-a-kind shopping. In short, Mint is all about food – be it take-out or dine-in. It is truly a destination for the senses of which the palate is so integral.