In spite of some drizzling rain two hours into the event, the Castle on the Hudson's first annual Winter Festival held on Sunday, January 24th, can be billed as a 'success.' About 100 people came to the outdoor extravaganza on the south lawn of the Castle to enjoy food, local wine, a casual atmosphere and some fun events.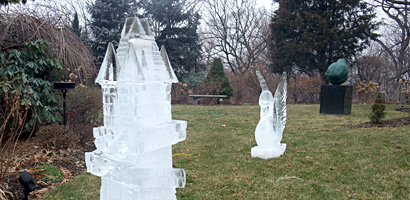 Executive Chef David Haviland was instrumental in organizing the event, hoping to "let the patrons see us from a different perspective." He put the festival together to encourage people to come out and enjoy an outdoor event in an effort to combat the 'cabin fever' that can creep up on us in the middle of the long winter months.
Three main activities were planned for the day; an ice carving competition, a chili cook-off, and a pie baking contest. This first year there were not enough entrants for either the chili cook-off or the pie baking contest. However, the ice carving competition was a success, and the resulting sculptures stood proudly on the lawn for the remainder of the day while a roving magician entertained the crowd with his deft slight of hand.
Haviland plans to hold the event again next year with the hopes of making it an annual event. Already planning for next year, Haviland admitted that the crowd was larger than he'd expected, prompting him to consider setting up a larger grill with a few more cooks for the next event. As to the weather curtailing some of the events, he says, "Maybe we'll do some events inside next year."
All things being equal, Haviland was pleased with the event as a whole. "I wanted to do an outdoor café and do it well." He says. "I think this being the first year, getting about 100 people – that's a good turnout."