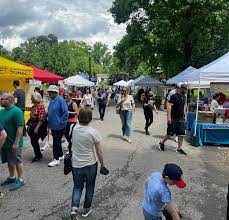 The Tarrytown and Sleepy Hollow Farmers Market (The TaSH) was named the Number 2 farmers market in New York state this week, coming in behind only the North Tonawanda City Market, which was named the top farmers market in the whole country.  
This is the second year in a row The TaSH was included in the nationwide contest from the American Farmland Trust and the Farmers Market Coalition, the only national ranking of farmers markets which includes a database of more than 7,000 markets across the country. 
This year The TaSH also ranked 10th best in the Northeast and one of the top 50 markets in the country in the competition.  
"We are absolutely thrilled for our market to get this recognition and to move up to second place in the state," said Tammy Bordeaux, co-president of The TaSH. "The TaSH ranked sixth last year. We are so proud of our amazing roster of vendors, our generous food assistance programs, our talented slate of musicians, our programming partners and all the talented staff and volunteers who work hard to make every visit to The TaSH the best."    
Founded in 2015 by Tarrytown and Sleepy Hollow residents, The TaSH will celebrate its 10th anniversary next year. It has grown exponentially in the past nine years, now hosting a rotating roster of more than 100 vendors who sell locally grown produce and flowers, meats and cheeses, baked goods, beer and spirits, and more. Held outdoors in historic Patriots Park, the market operates weekly from 8:30 a.m. until 1:30 p.m. on Saturdays from Memorial Day to Thanksgiving and features live music, a variety of educational programs, a loyal customer program and generous food assistance programs. 
The market is focused on helping the community and fighting food insecurity locally by doubling food stamp benefits for shoppers. Typically, SNAP customers can swipe $20 on their EBT card at the market tent and purchase $40 worth of groceries. Unsold food from vendors are donated each week to families in need through the high school. The TaSH also distributes tokens at a local food pantry that can be redeemed at the market.