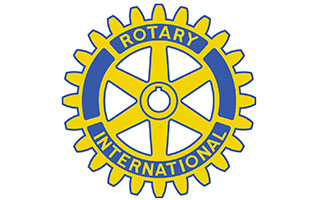 Walking through the doors of JP Doyle's for Rotary Club meetings every Wednesday is now a much different experience.  Missing are 2 fixtures at each meeting:  Steve Byelick and Jim McGough, both of whom have passed away.
Steve started with the Rotary in 1950 joining the Rotary Club of the Tarrytowns in 1957.  He passed away on February 15, leaving a legacy of accomplishments that include many terms throughout the years as President, and building up the Breitbarth Foundation to a sustainable amount that allows the Club to award 7 Scholarships to students living in Tarrytown, Sleepy Hollow and Irvington each year.  Steve was instrumental in starting and bringing to completion many Rotary projects and encouraged everyone to support the Rotary Wine & Jazz and Rubber Duck Derby events.  He was a 3-time Paul Harris Fellow recipient.  Steve was a proud Rotarian and not only was he present at all meetings and fundraising events, but he represented the Rotary at other community events, always ready to brag about the accomplishments and longevity of the Rotary Club of the Tarrytowns.  Steve saw the good in everyone and was the "go-to" person for advice on issues that affected the Rotary and the community. He was a good listener and was eager to share his wisdom.
Jim McGough came to the Rotary in 2004, and while Jim was not a member as long as Steve, Jim served in various positions and enjoyed working on the Scholarship committee.  He had a smile for everyone and his optimism was infectious.  If Rotarians were ringing bells at 6 a.m. at the train station for the Salvation Army, sitting in the blazing sun selling rubber ducks for the Rotary Rubber Duck Derby, or slicing bagels at 6 a.m. for the Leukemia Society's Swim Across the Hudson, Jim was there. And always with a smile!  He, too, was a proud Rotarian and anxious to tell everyone he met how great our Club is, encouraging everyone to join.  Jim's love of his community and the Rotary extended to his family.  He encouraged his daughter, Sarina, a teacher at Sleepy Hollow High School, to start an Interact Rotary Club.  This Club, supported by the Tarrytown Rotary Club , introduces young people to the values of the Rotary and giving back to the community.  How proud Jim would be to know that the Interact Club recently won a Charity Champions monetary award in a competition against other schools.
Steve and Jim contributed so much to the Rotary and to our community.  They both exemplified the Rotary motto, "Service Above Self."  Steve and Jim will be greatly missed.