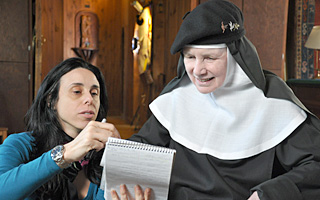 By her own report Rebecca Cammisa loves and misses Tarrytown. We spoke to her in Mexico over a poor phone connection; however, the filmmaker's sense of clarity and direction came through crystal clear.
Rebecca was raised in Tarrytown and still calls Westchester County her home. She graduated from the Pratt Institute with a BFA degree in photography and when one Google's her name a listing of her interviews and film credits are there for reading and viewing.
This year's Academy Awards takes place on Sunday, February 26 and Ms. Cammisa's "short documentary" entitled God is the Bigger Elvis has been nominated by the Academy. The thirty-six minute film portrays Mother Dolores Hart, a Prioress for the Benedictine Abbey of Regina Lauds in Bethlehem, Connecticut.
In 1963 Dolores Hart was an actress known for her roles opposite Elvis Presley in Loving You, Montgomery Clift in Lonelyhearts and George Hamilton in Where the Boys Are. She chose to leave Hollywood at a time when she was offered a reported seven-digit contract. She left with no regrets, only a higher calling. Viewers may see Mother Delores Hart who is expected to be in attendance and on the red carpet, having been a presenter at the Oscars in 1959.
Director Rebecca Cammisa was nominated in 2010 for her feature documentary entitled Which Way Home, which portrayed children and their quest to enter the United States, albeit illegally.
God is the Bigger Elvis will premiere on HBO, April 5. "It was Sheila Nevins at HBO who asked me to make this film," Cammisa added.  Nevins is the President of Documentary Films at Home Box Office.
Best wishes from the East Coast, Rebecca! Congratulations  on living a life of commitment and creativity that allows so very much to enter the lens and emerge for all to see and feel.
GOD IS THE BIGGER ELVIS: Mother Dolores Hart (R) with director, Rebecca Cammisa (L) Photo Credit: Producer, Julie Anderson/HBO