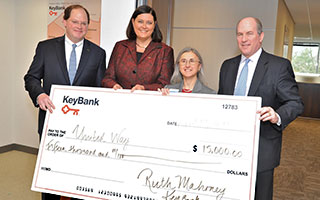 KeyBank recently held a ribbon cutting ceremony at its new Hudson Valley/Metro NY District headquarters office in Tarrytown. During the celebration, KeyBank officials presented a $15,000 check to regional branches of the United Way to support the Participate to Graduate initiative.
At right: Hugh Donlon, President, Northeast Region, KeyBank; Ruth Mahoney, President, Hudson Valley/Metro NY District, KeyBank; Carlene Gentilesco, Chief Operating Officer, United Way of Westchester and Putnam; Bill Koehler, President, Key Community Bank
"KeyBank prides itself on being a good corporate neighbor and giving back to the communities where we live and work," said Hugh Donlon, president, Northeast Region, KeyBank. "It's become a tradition to make a donation to a local organization with the opening of any new facility, and we can't think of any better way to demonstrate our commitment to the Hudson Valley than to make an investment in the region's future – its children."
Participate to Graduate is a regional partnership of the United Ways of Dutchess/Orange, Rockland, Ulster and Westchester/Putnam Counties intended to improve the educational outcomes of local at-risk youth through participation in after school and leadership development programs. Program offerings will be consistent from branch to branch and will focus on increasing confidence, computer skill-building, homework supervision, career exploration, and recreational activities like dance, music, art and yoga.
The programs are delivered by professional staff and volunteers who understand the mission of the program, are focused on the outcomes of successful academic performance and enjoy the company of youth. All instructors have ties to the Hudson Valley community.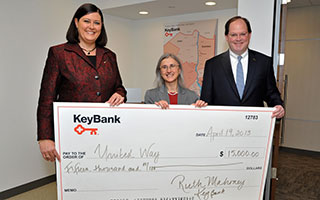 "What makes this program so unique is its regional reach. Through a shared focus and commitment of resources, our regional United Way branches have developed a great program that will help keep the Hudson Valley's youth engaged in the educational process by increasing skill levels and confidence. KeyBank is proud to offer our support," said Ruth Mahoney, president, Hudson Valley/Metro NY District, KeyBank.
Participate to Graduate's mission is to combine academic, recreational and health-oriented activities for the region's at-need youth so they increase their likelihood of successfully graduating from high school and move toward a positive career path.
"Key Bank has always been a reliable partner and friend to the United Ways in the Hudson Valley.  Supporting this collaborative effort to increase the graduation rate of at risk teens in the valley is another opportunity to positively impact our children and our region's future," said Stacey Rein, president, Ulster County United Way.
KeyCorp traces its roots back more than 180 years ago and is headquartered in Cleveland, Ohio. One of the nation's largest bank-based financial services companies, Key has assets of approximately $89 billion. The nine-county Hudson Valley/Metro NY District has 59 branches, 80 ATMs and nearly 400 employees.
Key provides deposit, lending, cash management and investment services to individuals and small businesses in 14 states under the name of KeyBank N.A. Key also provides a broad range of sophisticated corporate and investment banking products, such as merger and acquisition advice, public and private debt and equity, syndications and derivatives to middle market companies in selected industries throughout the United States under the KeyBanc Capital Markets trade name.
For more information, visit https://www.key.com/. KeyBank is member FDIC.