Ask any retail merchant or restaurant owner about January and, with few exceptions, they will bemoan the month from a financial gains standpoint. The light of the Christmas holiday season, which may account for up to 30 percent of annual retail sales, is followed by the dark side of the moon in January. Add to this business fact of life our current economy that is at best sputtering along, and most retailers and restaurants simply look to February 14 and Saint Valentine to buoy their businesses.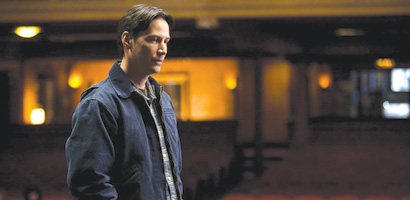 During a very frigid January that saw the Hudson River form ice shelves and the Tarrytown Lakes provide recreation for skaters, a feature film called Henry's Crime began shooting in the Village.
The production crew, numbering anywhere from 75 to 100 individuals depending on what scenes were being filmed, spent an estimated $170,000 within Tarrytown, according to its location manager, Daniel Strohl. The money came in the form of "payouts" to certain businesses for the use of their location and also in "purchases" made locally by the production company. For example, an "open tab" was created at a local coffee shop where $560 was spent on the first day of shooting and an additional $500 spent on the second day.
These figures were corroborated by Gary van ver Meer, a Tarrytown resident, who was closely involved in all aspects of the filming at the Music Hall. Mr. van ver Meer, a member of the Directors Guild of America, was the professional location manager. In 1995 he had chosen Tarrytown as one of the locations for the feature film, The Preacher's Wife, which starred Denzel Washington and Whitney Houston and was directed by Penny Marshall. The film was distributed by Walt Disney Studios and, according to van ver Meer, it had a budget of $120,000,000.
In comparison, Henry's Crime is considered a low-budget feature with $8,000,000 earmarked for its completion, according to van ver Meer. He is currently employed by Tarrytown's Music Hall as a production manager for all of the varied performances that appear at the Westchester "Landmark" theater.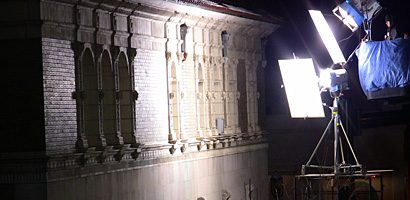 "I thought the coordination between the film production crew and the Village of Tarrytown went very well," he said during an interview at the Music Hall. The Village received approximately $30,000 for the presence of police officers during filming and an additional $12,000 for on-street parking and film permit fees.
Various local businesses received rental fees for the filming done at their location, the use of their parking facilities and the use of their buildings for dressing rooms. "The Music Hall and surrounding buildings were used in Henry's Crime over a period of sixteen days. I would say that approximately one-third to over one-half of the entire film was shot in Tarrytown. Shooting days were usually twelve hours long and if a 7 a.m. camera call was scheduled, the crew might arrive two hours earlier to set up," van ver Meer said. The Music Hall will appear in the film as the Orpheum Theatre where a stage production of Chekhov's Cherry Orchard is being performed.
[inset side=left]The production crew, numbering anywhere from 75 to 100 individuals depending on what scenes were being filmed, spent an estimated $170,000 within Tarrytown[/inset]Another filming location was the Portuguese/Brazilian cuisine Sol Mar Restaurant which became a coffee shop. In addition to the Music Hall and Sol Mar Restaurant, the Setback Inn on Main Street was type cast as a tavern in the film. The second floor of the vacant Wachovia Bank at the corner of Broadway and Neperan Road was used as an apartment in the film, occupied by Henry himself (Keanu Reeves). Mr. Reeves was sighted by many as he comfortably and without pretense walked in and out of Village businesses. One clerk at the Post Office said he actually stood in line. An elderly gentlemen approached Reeves and told him to keep up the good work. He was uniformly described as friendly, courteous and extremely handsome. In fact, Keanu Reeves' presence in Tarrytown gave residents an opportunity to feel a part of something exciting in an otherwise cold and unremarkable month. This writer can attest to that, having seen the effect of Reeves on one young resident. "Oh my God, he is so awesome," the teenager gushed.   "It's really something to hear about these big Hollywood stars coming into your town. Then to hear about how personable and down to earth they are is refreshing," she said.
The production company of Henry's Crime also paid fees to park their vehicles in the Village. The First Baptist Church, Christ Church, the parking lot adjacent to Hank's Alley, the Mozartina on Prospect Avenue and the Wachovia Bank lot all received rental fees for the use of their property. In addition, the production company reported significant purchases/fees at Mint Foods, Taste of China, Santa Fe, Lefteris Gyro, Sweet Grass, Riverview Liquor, Shell and Hess gas stations, along with accommodations at the Sheraton Hotel.  A detailed list presented to this publication reflected at least twenty-four businesses or organizations that benefited financially from the filming of Henry's Crime.
Music Hall's Executive Director Björn Olsson put into focus the filming of Henry's Crime in Tarrytown, with the following comment. "With many feature films being shot outside of the U.S. for financial reasons, it's very important for the film industry to have good locations close to New York City. Tarrytown is one of those locations."
For everyone else who knew that something very special was happening in Tarrytown — a word comes to mind. It is a word, coined by Master Card in its advertising, to define non-monetary intrinsic value. One could describe the benefit of having a feature film, starring Keanu Reeves, James Caan and Vera Farmiga, on location in  Tarrytown as — priceless.