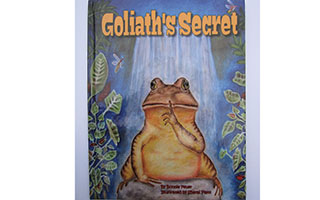 Tarrytown illustrator earns national recognition as gifted artist of new children's book
. Book critics are unanimous in their praise of
Goliath's Secret
(ISBN: 9780982546888) by Bonnie Feuer with illustrations by Sharai Platt of Tarrytown, NY. Released by The Connecticut Press on May 15, 2013,
Goliath's Secret
is the story of native West African animals who attempt to communicate with a Goliath frog, the largest frog on earth, that also happens to be mute. "In prose and rhyme, the delightfully written and beautifully illustrated children's tale serves as a wonderful introduction to West African wildlife, all rendered in gorgeous illustrative detail,"says one reviewer. Another critic praises the book as having "the look and feel of a classic" for its universal lessons in acceptance, caring, and the power of communication.  Still another book reviewer recommends Goliath's Secret to readers of all ages as "a great little book about understanding and accepting diversity" through words and carefully rendered illustrations.
Intended for children ages five years and up, Goliath's Secret is the second collaborative effort between Platt and Feuer, a Milford, CT educator.  Their first title, Wallaby The Wannabe (ISBN: 9780982546871), featured native animals of the Australian Outback by Platt who instilled such virtues as self-awareness, pride in who you are, and the importance of diversity throughout the book's illustrations. Educators universally applauded Wallaby The Wannabe for its positive messages and enchanting illustrations. Now they have Goliath's Secret adding to the magical mix of read-aloud books that teach and show children important life lessons in a fun and engaging way.
Goliath's Secret (ISBN: 9780982546888), 36 pp., 32 color illustrations, with glossary, is available for immediate delivery by calling The Connecticut Press at 1.203.268.6784 or by visiting its website at www.connecticutpress.com. The book retails for $18.50 and is also available through Amazon.