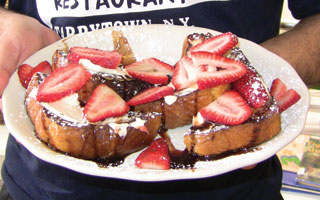 For Tarrytowners  and everyone else who frequent Bellas Restaurant on Broadway  in Tarrytown, service with a familiar smile, great breakfasts, lunches and more recently, dinners, have been the norm.  Starting with Gus Bellas who never saw a child who didn't need a donut, to his son John who missed his father dearly yet carried on the family business, to Billy Michialis, the new owner – Bellas Restaurant is as much a Village landmark as are the venerable homes on Grove Street.
Billy Michialis is a 3rd generation restaurant owner, with his Grandfather Tasos leading the way with Roxy's Coffee Shop in the South Bronx, followed by his father Spiro whose bagels were voted "Best Bagel in Manhattan" in the early 1990's. Billy Michialis remembers to this day the smell of fresh bagels and donuts wafting from the kitchen of his father's Bagel Chateau at 59th Street and 3rd Avenue. He was five years old at the time, and thirty-two years later it's his turn to put his signature on a special restaurant full of special wait staff and customers. "When I learned Bellas was for sale, I came over and was filled with nostalgia," he said.  He quickly wanted to be a part of Bellas and that included keeping  the wait staff known to all by their first names, as well as keeping many favorite items on the menu, and most importantly, adding new dishes and additional services.
Bellas Restaurant is now accepting all major credit cards, and that is a first. In addition more fish dishes and salads will soon be served.  One addition to breakfast which is served all day long is Challah Berry. It starts with Challah Bread baked on the premises with a slight hint of cinnamon. It is topped with cream cheese, strawberries and powdered sugar before receiving a drizzle of dark chocolate. Did we forget to mention the word "tasty?" In addition a 3-course meal will be offered to include coffee or a soft-drink for $13.95. It will be Bellas' "early dinner special" served from 3:00-5:30 pm Monday through Friday excluding holidays. "I want people to tell me if they have any food allergies and to comment on what we serve," Michialis said. Seems like a surefire way to keep customers coming back to a place that has been an integral part of Tarrytown for many, many years.  Good luck Billy!
Bellas is located at 5 South Broadway in Tarrytown.  Catering for all occasions and free delivery in Irvington, Tarrytown and Sleepy Hollow. Call for delivery details. (914)332-0444.