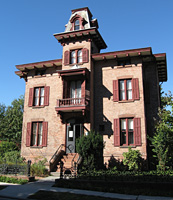 At the Historical Society, Inc., Serving Sleepy Hollow and Tarrytown, we would like to express our appreciation to everyone in the community who voted for our proposal during the recent Pepsi Refresh Project. Pepsi is giving away over a million dollars a month in grants for worthy projects throughout the country.  In a new procedure, people are allowed to vote online for the projects they prefer. So the Historical Society applied for a $50,000 grant in the March competition. Our plan was to use the funds to help preserve our 162-year old landmark headquarters, the Jacob Odell House, at 1 Grove Street, Tarrytown, and to have high school students document the preservation project in a variety of ways for the Society's archives.
Out of more than 1,100 entrants in five grant categories, we received enough votes to rise to 65th place. It was an impressive showing, one that can inspire pride in all of us. Unfortunately, it was not enough to win the grant. Luckily, we are chock-full of ideas and are already working on possible alternative ways to raise the funds necessary to give the Odell House the tender, loving care that it deserves. Stay tuned. There will be more news on that as the process develops.
In the meantime, be sure to stop by between 1:00p.m. and 4:00p.m. on Sunday, June 6, for the annual Strawberry Festival. We will have all the usual delights, including music, games and dress-up costumes for the kids, and especially strawberry shortcake. We have also arranged a return visit by the ponies and other animals that graced Neperan Park last year. So come on over and have a great time!