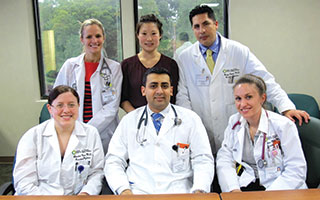 The relationship between Phelps Memorial Hospital Center, the full-service community hospital in Sleepy Hollow, and Open Door Family Medical Centers, provider of affordable primary outpatient healthcare to the underserved, began more than four decades ago.
At right 6 first-year residents in Phelps' residency program.
In the 1960s and early 1970s, the medical needs of the underserved population in Ossining were met by a much-loved Phelps Memorial Hospital physician named Dr. George Hill, who had a medical practice on Spring Street. Dr. Hill was known for his selfless acts, such as annually offering free physical exams to children who were going to summer camp. When he passed away in 1972, his colleague, Dr. Bradley Gordon, recognized that Dr. Hill's absence would create an unmet need in the community and thought it would be a good idea to open a free clinic. Thus, Ossining Open Door was established, providing free medical care on Tuesday and Thursday evenings in the basement of the First Baptist Church.
In 1974, Dr. Bruce Heckman joined the Phelps medical staff and became medical director of Ossining Open Door, a position he would hold for 17 years. Dr. Heckman served for many years on the Phelps Board of Directors and he was instrumental in the founding of Phelps Hospice for which he is still medical director.
Lucy Cioffiro Engelhardt, Phelps Vice President of Nursing, remembers the early days in the church basement when she was a Phelps nurse and an Open Door clinic volunteer. Her assignment was to follow all the patients who might have hypertension. There was no equipment at the clinic, so the nurses and doctors brought whatever they needed in their medical bags. "At first, only five or ten people would come to see us," recalls Engelhardt, "but soon the numbers grew to 20 or 30 at a time. People began to understand that it was a place where they could come and be safe."
Free health clinics such as the early Ossining Open Door were common in the '60s and early '70s, until New York State began to require licensing for such facilities. Dr. Heckman and Open Door's first administrator, Marge Griesmer, worked together and obtained the necessary license.
Expansion began. When a wealthy Ossining resident asked his housekeeper where she thought he should contribute some of the money he had gained on the stock market, she said, "Ossining Open Door," and he listened. That contribution enabled the purchase of the building at 165 Main Street, where Ossining Open Door is still located today. At first, the clinic occupied the front of the first floor and leased the back portion to Phelps' mental health services, but it wasn't long before Open Door occupied all three floors of the building.
Open Door's first internal medicine physician, Dr. Steven Koval, transformed it from a clinic into a real medical practice, which continued to grow. More Phelps doctors and nurses joined Open Door's staff. "From the very beginning," says Dr. Heckman, "all of the physicians associated with Open Door in Ossining and Sleepy Hollow have been members of Phelps Memorial Hospital Center's medical staff." Today, Open Door Family Medical Centers has locations in Ossining, Sleepy Hollow, Port Chester, Mount Kisco and Brewster.
"Prenatal care is one of the longest and strongest partnership initiatives undertaken by Phelps and Open Door," notes Lindsay Farrell, Open Door Family Medical Center's President & CEO. For many years, the two have offered expectant mothers medical care and education under the NYS Department of Health Prenatal Care Assistance Program. Two obstetricians and five nurse midwives see patients at Open Door during the first 36 weeks of pregnancy; for the remaining weeks, patients come to the Prenatal Clinic at the hospital on Tuesday mornings. When Open Door midwives deliver babies at Phelps, they are backed up by physicians from Sleepy Hollow Medical Group or Westchester OB/GYN. The Open Door babies delivered at Phelps each year represent a significant percentage of the total number of deliveries at the hospital.
Ten years ago, Open Door Family Medical Centers established its Cancer Services Program. Phelps has supported this program by providing diagnostic testing and treatment in the hospital for patients who have breast or colon cancer.
Last year, Phelps and Open Door in Sleepy Hollow partnered with New York Medical College to establish a Family Medicine Residency Program – the first new family medicine residency in New York State since 1995. The program's residents have the unique opportunity to provide care for both inpatients (at the hospital) and outpatients (at Open Door). "The partnership with Open Door is facilitating outstanding training for our residents in the outpatient setting, where they can learn to be leaders in a patient-centered medical home," says Dr. Shantie Harkisoon, the Residency Program director. "We serve a varied group of patients – many different ages, ethnicities, economic status," notes resident Dr. London Muse, "and that will prepare us to be well-rounded physicians."
There is a concern across the nation that the supply of primary care physicians will not be adequate to meet the demand as baby boomers age. "The NYMC Phelps Residency Program is helping to address that concern in a significant way," says Keith Safian, Phelps President & CEO. The six doctors who began their 3-year residency in 2012 will be joined by six more in both 2013 and 2014. From that time forward, there will be 18 residents in the program who will be learning and gaining experience at Phelps and Open Door.
Phelps Memorial Hospital Center and Open Door Family Medical Centers share a common mission – to ensure that all members of the community have access to quality healthcare. Their long-standing relationship has been one of mutual benefit – not only for the two institutions but for countless individuals in the communities they serve whose health has been enriched by the care they provide.