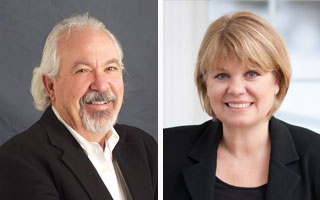 On Wednesday, March 18, the residents of Sleepy Hollow will go to the polls and elect a sizeable chunk of the Village's governing body for the next two years. Recent elections have offered voters little in the way of choice, as the Democratic candidates for Mayor and Trustees have often run unopposed. This year that is not the case.
In addition, in an intriguing twist, the individual opposing the current Democratic Mayoral candidate is the previous Democratic Mayoral candidate and current Mayor.
Both Democratic Mayoral candidate and Village Trustee Karin Wompa and Unite Sleepy Hollow Mayoral candidate Mayor Ken Wray bring a record of Village service to the table; both are registered Democrats, and two years ago they ran on the same ticket. However, the two possess starkly different views on the last two years as well as on what the Village's priorities ought to be moving forward.
"I decided to run because I just felt that we're entering a phase where Ken Wray's style of government has not been working for a long time. In fact, it may be detrimental to the Village moving forward," says Trustee Wompa. "I think he has a very passive nature when it comes to running the Village. I don't think he has created strong relationships with elected officials in other municipalities, and I really think his whole economic development plan for the Village has been to wait for GM."
"I think my record shows that I approach the major issues of the Village in a thoughtful and intelligent way," says Mayor Wray. "The approach to problems is something where we have to stop and think through all of the possibilities and debate them based on the merits."
Mayor Wray caused a stir late last year in what has become a one-party town when he announced he would be running for re-election as part of a new political party, Unite Sleepy Hollow. The cracks between Mayor Wray and the Sleepy Hollow Democratic committee began one year ago when Wray championed the re-nomination of registered Republican Jennifer Labato-Church for Village Trustee and was surprised when a faction of the committee, led by Trustees Wompa and Bruce Campbell, objected.
"I just felt that it was a really distasteful experience for me since they were opposed to Jennifer because she was a Republican," says Mayor Wray. "I felt then and I feel now that our national party affiliations are completely irrelevant on the village level. We're not debating education reform, we don't have a foreign policy, those kinds of things are not part of village government. I thought that Jennifer was someone who was a terrific trustee and had done a good job for the Village."
Mayor Wray is continuing to look past party affiliations by running as an Independent and by teaming up with a politically-diverse group of candidates for three open Village Trustee spots including current Village Trustee Glenn Rosenbloom and residents Denise Scaglione and John Leavy – both of whom are registered Republicans. Running for Trustee with Wompa on the Democratic ticket are current Trustee Bruce Campbell, former Trustee Jose Chevere and resident Mary Linder.
Both mayoral candidates agree that one of the biggest issues in the Village over the next two years will be the former GM property  – much as it has been for the past twenty years or so. However, this time the question is not what will happen with the property, but how will Sleepy Hollow be affected now that the property is poised to become the Lighthouse Landing project and come back onto the Village tax rolls.
"This is a time when we should be thinking in an intelligent and strategic manner about the future of the Village aside from the Lighthouse Landing development," says Mayor Wray. "Stop and think about what the affect is going to be on the rest of the Village when you add 3,000 more people to a Village with 10,000 inhabitants. What's going to be the affect on the Village when those 3,000 people are almost entirely from very high income households? The current median income in Sleepy Hollow is $68,000. The folks moving into Lighthouse Landing will likely be in the $200,000- $500,000 range. That will have a very large impact on the Village."
"The reality of it is, most of the work for the GM contract was done between the developers and GM for the purchase of the property, and now the Village work is just beginning," says Trustee Wompa. "So far [Mayor] Ken Wray has neglected to appoint a design committee as required by the special permit, he has neglected to address the traffic issue for Sleepy Hollow, and he hasn't made appointments to committees for oversight of the site plan like the Waterfront Advisory Committee, the Parking Authority, and the ARB (Architectural Review Board). Those committees no longer exist because he hasn't made appointments to them. Once the developers start moving it's going to go really quickly and I think the Village needs to have already positioned themselves to get the right resources in place."
In addition to Lighthouse Landing, both candidates point to the need to revitalize Beekman Avenue, something Trustee Wompa has taken the lead on over the past few years. The two candidates offer different opinions on how well that has gone.
"When it comes to a vision for our downtown… I have a very different approach than Karin," says Mayor Wray. "I see that as a key part of what she's done separate and apart from the Board, and I would say [you should] drive down Beekman Avenue and show me what's happened."
"Beekman Avenue… was really lying dormant. So I pulled together a focus group and committee made up of professional volunteers and Village officials to develop a plan for marketing Sleepy Hollow and bringing in developers," says Wompa. "Through that committee we've already had two major successes: the vacant lots on Beekman Avenue are sold and will be developed, and the Union Building has been sold and will be developed. So I would be much more proactive as Mayor and get that momentum going to really market Sleepy Hollow and work with developers rather than just have a laissez-faire attitude of saying that once GM happens everything will revitalize. You can't just sit back and let change happen."
It is clear that both candidates feel strongly about how best to lead Sleepy Hollow in these initial  years post – "when will the GM project ever get started?"  It is equally clear that while the end results of the two visions may be similar, the journey to get there will be vastly different depending on who is elected.
Historically, it is difficult to win office as a third-party candidate. Historically, it is difficult to defeat an incumbent running for re-election. On March 18, the voters of Sleepy Hollow will choose which vision they feel will better serve the Village, and in doing so will help one of these two candidates to beat the odds.