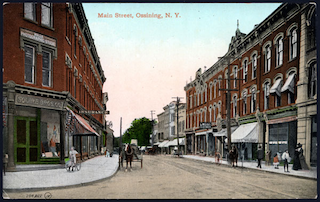 The Mayor of Ossining, Victoria Gearity, and the Board of Trustees voted 3-2 in favor of moving forward with a consulting firm to assess a roundabout in the heart of Ossining's business district. This roundabout would be built where Main Street, Spring Street, Central Avenue and Brandreth Street all converge. In this first part of a two-part series, active and local opposition to this proposal is expressed.
"Where in the United States do you have a circle or roundabout in an historic district? Where? Nowhere. We haven't found it; we haven't seen it. We have asked this question of the Board of Trustees and have gotten no response. The real issue is that you are destroying the downtown district even further [with a roundabout] than it already was with Urban Renewal," said Kaja Gam, an Ossining resident, Main Street business owner and member of the Historic Preservation Commission.
"By far the majority of Ossining residents have no clue about what's going on with the Village going forward on a roundabout proposal. A roundabout will benefit commuters going to and from the train station. It is car-oriented where pedestrians should be king. Ossining prides itself on trying to meet the needs of all its citizens, and this roundabout proposal goes egregiously in the wrong direction," echoed Maureen Morgan, a staunch community advocate who has lived in the Village for 30 years.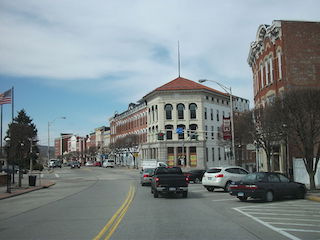 "If you look at the 2009 Comprehensive Plan that is to be reviewed every 5 years, it addresses the downtown and references creating a landscape of retail, parking and residential additions. It also deals with transportation and the need to make the Village more pedestrian-friendly along with bike lanes. When you talk with business owners as I do they all mention they are waiting for the Village to take off [retail wise] and increase its foot traffic. People on the streets attract other people to them. The roundabout cuts into all of this," said Quantel Bazemore, who has lived in the Village for 26 years and whose Great Grandmother moved to Ossining in 1959. Mr. Bazemore is also a Village Trustee who voted against the roundabout proposal.
"Today, as I work in the downtown area, I am a pedestrian. I do not see a roundabout as pedestrian friendly. Let's just adjust the traffic lights for now. I have not seen any fatalities at that intersection since the inception of the two way on Spring Street. How will heavy truck traffic work? Will those vehicles eventually destroy the roundabout? What about all the Fire Department apparatus that will be running on top of it? We should be calming the traffic, not speeding it up. For these reasons, and probably a lot more that I can think of, I and the Chamber of Commerce are against this roundabout," said John Girolamo, resident of 37 years, former police officer and current Director of Public Relations for the Chamber.
It should be noted that in a January 2nd email from the Mayor entitled, "The Village is Poised for Exciting Development," she signed off on a letter that stated, among other things, "Construction of the new intersection is planned for the summer of 2017. Ossining will become the only Hudson River community to have a modern roundabout at the heart of its downtown."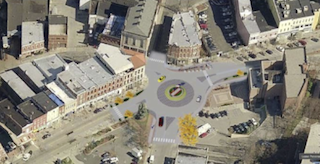 Of concern is that many residents in the Village are unaware of the roundabout proposal. At present the opposition, to what many see as a fast-tracked project, has one option, and that is to call for a referendum once the Village seeks a bond for the projected $500,000 cost.
This referendum, if successful, would in all likelihood be on the ballot for the November election. According to John Girolamo the information given to him by the Village Clerk was that signatures from 5% of the voters who participated in the last Gubernatorial election would be sufficient to put the roundabout project and its costs before voters in the Village of Ossining.
Kaja Gam sees the irony of the roundabout when she talks about former Mayor Bill Hanauer. "He had a plan to see redevelopment of the downtown — for it to be a combination of local commerce, living spaces and even an art center to draw people. Village government is now planning to take a big chunk out of the downtown area," she said.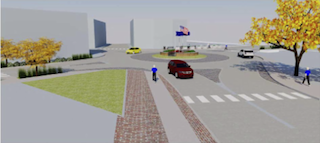 To many who question the Village's choice, a decision as important and impactful as a roundabout in an Historic District should not be hinged on one vote. In reality the 3-2 vote in favor has raised some critical questions, and unless a referendum is put forth, the project may very well  proceed.
As one person asked, "Has the Village done an environmental review on this proposal? They need to."