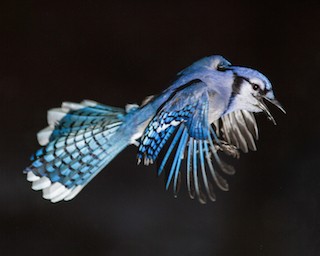 Ardsley photographer Lewis Bogaty returns to the Ossining Library following his 2014 all-trains show, with an exhibit titled "Feathers, Manes & Mist."  The exhibit features dramatic images of birds, wild horses, and landscapes suffused with evocative fog and mist.
Best known for his photographs of birds and trains, Mr. Bogaty loves to photographer the outdoors.  He has photographed the wild horses of Wyoming and Montana over several years and includes some of his favorites in this show.
Birds that are featured include bald eagles that fish the Susquehanna River in Maryland; roseate spoonbills, egrets, and wood storks that migrate to Florida to hatch their chicks; Sandhill cranes that flock to New Mexico in the winter months; as well as the many songbirds found in local backyards.  The exhibit also features the rare, endangered whooping cranes that winter in coastal Texas.  Only 600 remain in the world.
Image: © Lewis Bogaty
Mr. Bogaty has exhibited throughout the area in solo and group shows.  His photographs have appeared in newspapers including the New York Times, and have been featured in numerous magazines.  He has won awards in competitions from Massachusetts to West Virginia as well as Westchester's own Westchester County Photo Contest.  His images are owned by institutions and private collectors.  Information and photographs can be seen on his website, www.LewisBogatyPhotography.com.
The exhibit runs for the month of April at the Ossining Public Library, 53 Croton Avenue, Ossining NY.  A price list is available.  All are welcome to attend the opening reception on Sunday, April 9th at 2-4 p.m. Light refreshments will be served.
About the Ossining Public Library
The Ossining Public Library is a School District Library chartered by the State of New York to serve all residents of the Ossining School District. As a member of the Westchester Library System, it also provides services to a larger community.
OPL's mission is to provide easy and equal access to the broadest range of information and ideas of humanity in order to meet the educational and intellectual needs of the diverse members of our community, while enriching their social and cultural lives.