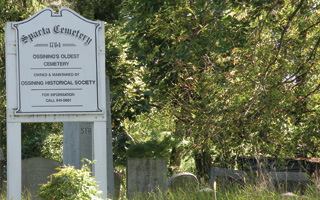 Halloween is fast approaching.  Briarcliff Manor and other Hudson River towns lend themselves to tales of haunted houses, schools, businesses and roads.  The rich and sometimes scandalous history of this area is well-known. Home to mystics, millionaires and madmen, the river towns have a wealth of supernatural tales that have layered themselves like a shroud upon their illustrious history. What tales swirl in the mists that arise from the early morning fog on the river?
My interest in them is personal.   I live in a turn-of-the-century, rambling, and rebellious home in Briarcliff Manor.  My plumber believes my house is haunted. He has no other explanation for why the toilets randomly flush. My husband, on the other hand, explains away the flickering lights and the slamming of doors as the vicissitudes of an old house. Faulty wiring and drafts, however, don't explain the inexplicable smell of roses that descends mysteriously from the chandelier in the dining room, or the less pleasant but every bit as mysterious, smell of cigarette smoke in the middle of the upstairs hallway.
The smell of cigarette smoke and the eerie and oppressive feeling that someone was following them was told to me by a former student of King's College in Briarcliff Manor. According to him, it was an experience that was regularly felt by many students as they were walking to and from classes.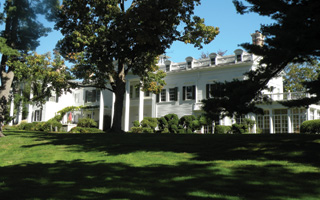 King's College was the former Briarcliff Lodge that was built as a luxury resort in 1902 by Walter W. Law, the founder of Briarcliff Manor. It became the destination of the ultra-rich with every convenience and luxury available at the time. World class swimming pools and a man-made ski jump attracted the Olympics in the 1920's.  The panoramic view of the Hudson River was unsurpassed. The buildings mysteriously burned down in 2002 after they had been vacated by King's College.
The ghost stories about King's College, in particular, are legion. One alumnus tells that:
"Any member of the college could tell ghost stories. There are many guests still residing at Briarcliff Lodge… although mostly deceased… many, many, many people have seen and heard parties going on in the ballroom. Sometimes the faint smell of alcohol would traipse up the stairs to the men's dormitories. As you know, King's was a dry college. The piano would play at night…and lights would go on in the attics and other rooms where no one was living, especially in the summer."
Another writes:
One day in late January of 1994, I was trudging back to my dorm after a class. There were a few inches of snow on the ground and it was bitterly cold out. It was about 6pm and there were only about a handful of people scurrying about. As I was walking back, a shadowy figure up the hill ahead of me caught my eye. I could have sworn it was a dark haired woman in a flowing black gown that was standing there. Given the fact that it was so cold that day, and the "woman" wasn't wearing a coat, I was convinced I was seeing a ghost!
When I told my roommate about what I had seen, she told me that she had seen the same woman in black, back in November, before Thanksgiving break.
I had heard that a young woman committed suicide in the bathtub of one of the rooms in the lodge, back when it was known as Briarcliff Lodge. I had also heard that two other guests had either died due to illness or accident while at the hotel, or died at their own hands while at the hotel. A while back I had read an old newspaper article that indicated that a young woman had suffered a miscarriage and bled to death at the lodge in the 1930's. Whether or not any of this is true, I have no idea. I do know what I saw on that wintry day in 1994!"
King's College was not the only school in the area that was reported to be haunted. Within walking distance of King's College, Dow Hall at Pace University in Briarcliff, is another college with a ghostly reputation.  Pace's Briarcliff campus was originally Mrs. Dow's School for Girls, then it became Briarcliff Junior College in 1904 and Briarcliff College after that.  For decades, strange occurrences have been reported by students and they seem to be increasing in frequency.  Some say that it is haunted by Mary Elizabeth Dow (Mrs. Dow) who was a close friend of Walter Law who built Briarcliff Lodge.  Episodes were reported in a recent Pace Chronicle, claiming that people could hear shrieks in their room when no one was in it. Tiny handprints would appear in rooms, on ceilings and upper walls that were not accessible without a ladder. A very peculiar occurrence was perpetuated by what seems to be a conscientious ghost. Students would find their beds made when they returned and no one had been in their room, even beds were made while the students were sleeping in them!  People reported going to sleep with no comforters on and waking to find that the comforter had been placed over them.
According to one:
"I used to dorm at Dow hall in Briarcliff Manor on the Pace University Campus. I had heard many stories from upper classmen about a fire on the fourth floor in the early 1900's and how the dorm was haunted.
Although I had never seen a ghost, my room was affected. When I was in the shower I would hear drawers slamming shut over and over again. If I threw my shoes in the closet they would end up next to my bed when I returned to my room. The extra bed in the suite would be made (pillow and blanket) when originally it had nothing on it. The TV turned itself on at the beginning of my roommate's favorite episode of Will and Grace (and no it was not the set)."
A nice ghost, as she cleaned up around the dorm!
Then there are the "not so nice ghosts."  The Beechwood Mansion in Briarcliff Manor was built in 1790.  It was purchased by Frank and Narcissa Vanderlip and expanded to reflect their lavish lifestyle and their love of entertaining.  They built a large ballroom and entertained the likes of Isadora Duncan, Annie Oakley, Franklin D. and John D. Rockefeller, Sarah Bernhardt and Henry Ford. The Wright brothers even landed a plane on the property. Mr. Vanderlip was the founder of the Bank of New York and Narcissa Vanderlip cofounded the League of Women Voters.
Before the Vanderlips lived at Beechwood, a man named "Mad Mathias" reportedly lived there. He was a religious fanatic who wore a large gold cross around his neck, and he was driven by footmen around Briarcliff in a chariot drawn by six white horses.  In a ritualistic frenzy of murder, Mad Mathias slaughtered five young virgins and buried them in the basement at Beechwood.  A footman, in love with one of the victims, killed Mathias and buried him next to the girls. The Vanderlip servants, unaware of the grisly past, claimed to hear footsteps running up and down the stairs and bizarre gasping sounds. An excavation uncovered the human remains and a large gold cross. The remains were removed from the house and buried on the property.
One more Briarcliff location thought to be haunted is the Edith Macy Conference Center, which is owned and used by the Girl Scouts of USA. Juliette Low (the founder of the Girl Scouts), Edith Macy (a Briarcliff socialite and Girl Scout president), and Jane Deeter Rippin (another Girl Scout president), supposedly haunt the property's Great Hall and surrounding grounds. When I went to take a picture of the Great Hall for this article, I parked in front and stepped out of the car.  All of a sudden, all the doors locked, leaving my keys and purse inside. Fortunately, I had left a window open but I drove away as quickly as I could.
It should be no surprise that Briarcliff has many ghost legends. It is the location of Sleepy Hollow Road from the Legend of Sleepy Hollow fame where Ichabod Farms are located, home to Ichabod Crane.  It also has the haunted Sparta Cemetery where the famous Leatherman is buried.
My husband still doesn't believe our house is haunted even though the people who built it were very close friends of Walter Law and Mrs. Dow  and "hung out" at the Briarcliff Lodge; even though our electrician, while repairing an original outdoor lamp post showed me that the lights were on with no connection whatsoever to any electrical source.  All I can say is that I am grateful to the spirits, that may or may not reside in my house, for making me feel welcome and not scaring the candy corn out of me. Now if they would only make my beds!
[blockquote class=blue]River Journal invites local residents to submit pieces they have written. Please contact us at RiverJournal@aol.com for additional information concerning submissions.[/blockquote]