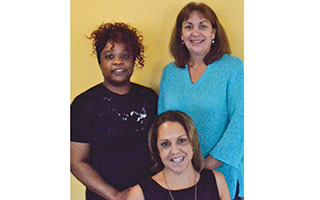 The licensed support staff at the Allstate Insurance office in Briarcliff make sure they take time with each and every one of their clients, assuring that each person  knows and understands the kind of insurance they are purchasing.
"It's not just about selling insurance, it's about assessing your client's needs and making sure that those needs are met," said licensed support staff member Lorna Williams, "knowing that at night, when your client goes to bed, they have peace of mind." Williams feels that the worst thing is waking up at 2:30 in the morning and realizing you're not insured or covered for a loss that may have occurred.
Michael Villano, Sr. owns the office, and he, along with his three licensed support staff members, operate it. "We're all very knowledgeable about the products we sell," said Laura Altaville. "We've all been doing this a long time." Laura Rigano said they each had from ten to fifteen years of experience with other Allstate agents, and started working for Villano when he opened the office about two years ago.
No matter what kind of insurance a client is looking for, these agents make sure they know what they're buying. "We educate our customers about what kind of insurance we have and [strive to]
understand what they want," said Williams. Rigano added, "We want to spend more than 15 minutes with you!"
You can reach Michael Villano's Allstate team at 914-304-8115 or visit the office at 510 North State Road in Briarcliff, Monday through Friday 9 a.m. to 6 p.m. or Saturday from 9 a.m. to 1 p.m.