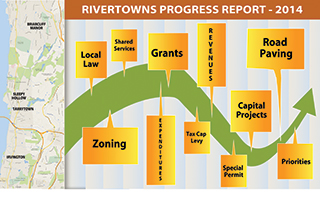 Road paving in the Village of Briarcliff Manor concluded ahead of schedule. Successfully bidding out the milling for the roads this year, Phil Zegarelli, Village Manager of Briarcliff Manor, stated, "Milling takes the road down to the base level and when combined with a top coat, creates a more durable and smooth surface."
Late summer/early fall is selected as the best time for road paving in Briarcliff Manor. Due to the harsh 2014 winter, highway crews cut out and patched bad areas earlier this spring.
A reminder to residents and landscapers is on the Village website and repeated here. "Residents must separate twigs and branches from leaf piles and must keep sidewalks, drainage areas and catch basins clear of leaves. This includes NO leaf piles in the streets.  Be a good neighbor and follow Village Code Chapter 161 regarding Property Maintenance … all leaves should be removed by the homeowner from these areas and placed within the right-of-way … commonly the first 10 feet from the road, until we are able to pick them up." Phil noted that, "As we haven't had a frost yet and with a wet summer, we anticipate a large volume of leaves to pick up this fall."
Scarborough Park is a six-acre, 97-year-old riverside park located right next to the Scarborough train station. The Village has renewed its application for a $500,000 grant through the New York State Office of Parks, Recreation and Historic Preservation. Phil has been informed that this funding has been earmarked. Phil says, "We are hoping to see our re-application sustained and the funding allocated to our project." The Village of Briarcliff Manor is also waiting on a positive response to refurbish the river fishing pier and to protect and redesign the shoreline.
On July 18th the Village Manger report announced "The Briarcliff Manor Fire Department was awarded $167K in federal funds via a Department of Homeland Security Assistance to Firefighters Grant Program. Funding was
also awarded for a new ambulance and the purchase is ready to go as soon as the specifications are determined.
A funding application for ADA compliant entry doors for both the Library and Community Center has been approved. Phil stated, "We received a check for $76,472.00 representing 90% of a NYS Library Construction Grant totaling $84,969. The other 10% is to be paid upon completion of the project. The goal is for a Library/Community Center facility that complements each use and yet when combined can be utilized as a local warming/cooling center as well as for Village governmental use in the event of a major local disruption." This project will go out to bid in January 2015.
The Village of Briarcliff Manor plans to stay within the tax cap in the 2015-2016 budget.