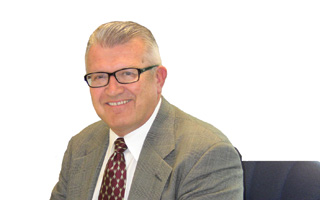 When we first spoke to Superintendent Miller it was the 10th anniversary of 9/11 and he had been at his new job for a little over two months.  A Harvard graduate with a degree in English and American Literature, Miller also holds a teaching certificate and a Master of Arts in Educational Administration. With almost three quarters of a year at his new position we spoke to him about the Briarcliff School District and what changes had occurred along with what was being planned.
With regard to "fiscal prudence" throughout the District, Miller stated, "We have done exactly what I said we would do. We have looked at our budget to see what areas we felt we could reduce. I met with our administrative staff and asked them to look at what reductions and savings they could come up with. From there we went to the faculty of each school and we asked them to do the same thing – to look within their world and see how the District could save money. Then we met with the Briarcliff community and had a "budget open house" where we asked them to list what areas were important to them. We got a great feeling for what they wanted preserved and what they felt made Briarcliff great. I took all this to heart and along with our Assistant Superintendent Stuart Mattey we went through the entire budget line by line."
On Monday, March 19, Superintendent Miller presented to the Board of Education a budget that was "fiscally responsible and educationally strong." That budget will be available on the District's web site, and according to Miller, both the administrative staff and the teaching faculty took a hard look at reducing any items thought to be a luxury. "They came back with substantial savings in areas of equipment and supplies which ended up being significant. It's significant in the fact that it was a dollar amount reduction and that our staff took the issue to heart," he said. With regard to the input from the community members he noted that educational programming was at the top of their list of importance. "They want to see something audacious instructionally – something that will be a strong component of their children's education. They also want to know what's important to me, and the budget will reveal what I think is important to a child's education," he added. "Parents are looking for leadership on my part and for ideas and creativity which will bring even more success to the students of Briarcliff. We are very successful and our students are very high achievers," he added.
In addition to the upcoming school budget vote in May there will be a $9.5 million bond referendum on the ballot as well. "We formed an ad hoc facilities committee and there were 60 community members who gave of their time and expertise, working every Wednesday evening from 8:30 to 11:30.  They were broken down into subcommittees depending on their interests and expertise. They looked at the internal structures of our buildings to see if we needed additional classrooms or science labs. They also looked at energy usage and came up with recommendations to help our District increase  savings. In addition, they looked at the outside of our schools including our playing fields. There were a number of areas that they looked at and their presentation several weeks ago ended up being a  package that would affect the scholastic and inter-scholastic lives of our students," Miller said. As a result, many additions – from science labs to artificial turf fields – and making sure that the remaining fields are dry and level, will be presented in the bond referendum. At the time of this writing the referendum had not been approved by the Board. If it is approved then it will appear on the May 15 ballot along with the school budget.
In a previous interview the Briarcliff Superintendent had talked about formulating a 5-year plan for the District. We asked him about that and learned that he has interviewed over 50 people since he began working on July 1, 2011. The interviews have been with a wide range of individuals including community members, teachers, administrators, support staff and students. This summer he will be presenting his findings to the Board and it will be the starting point of a 5-year plan for the School District of Briarcliff Manor.
In closing, the Superintendent addressed the issue of teacher's aides versus teaching assistants which had been seen as a contentious issue in the school district. "There has been a lack of understanding around this issue and the direction we took. First of all it provided very little cost savings even though the salaries of the teacher's aides and their benefits were higher than the teaching assistants. It was never the intent to save money by hiring teaching assistants. I didn't even look at the budget when I made the decision to hire teaching assistants and release twenty-seven teacher's aides for the upcoming school year," he said.  He went on to say that the reason for the change was a regulatory compliance issue. Teacher's aides by law cannot instruct and the act of helping students with their homework fell into the area of instruction. "I believed that we could create more opportunities for instruction within our classrooms with state certified teachers working as assistants. I had to look at the issue in terms of what was best for our students. We are talking about putting a teaching assistant in every classroom in the elementary school ( K-5) so there will be 2 certified teachers present. There will be more types of instruction going on. I see it as very strong and as I mentioned earlier – audacious programs. This is one of them because I don't think there are too many school districts that do this," he concluded.
Neal Miller has come to recognize and commend the involvement of "good people" in the Village wishing the best for their children. "I see so many positive examples in Briarcliff and that's why our students do so well. They have tremendous support in the classroom and at home as well," he said. To that end he intends to continue bringing people together in an effort to support and educate the children of Briarcliff Manor through fiscal prudence and academic excellence.