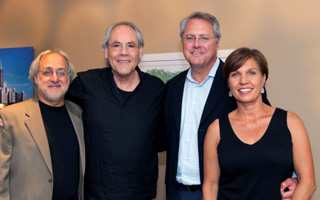 Acclaimed comedian Robert Klein brought his unique and hilarious brand of humor to The Club at Briarcliff Manor, the region's premier senior living community under development, which recently hosted a special VIP performance of the famed stand-up comic for more than 100 future residents and guests.
Mr. Klein entertained for over an hour, reminiscing about growing up in the Bronx and about his career as a comedian, actor and author. Mr. Klein's side-splitting observations and musical numbers on topics ranging from scandal-plagued politicians to the trials and tribulations of growing older, brought howls of laughter from the audience.
Following the performance, Mr. Klein signed copies of his best-selling memoir – "The Amorous Busboy of Decatur Avenue."   Copies of the book were presented as a gift from the Club at Briarcliff Manor to everyone who attended the event. The afternoon performance was held June 7th at The Club's Information and Design Center at 25 Scarborough Road in Briarcliff.
"We are delighted to have had the opportunity to present to our future residents and our guests one of today's great comedians and entertainers. Everyone thoroughly enjoyed themselves, and Robert Klein was very generous in sharing his time during the book signing," said Matt Phillips, Founder and CEO of Integrated Development Group, which is developing The Club at Briarcliff Manor in partnership with the National Electrical Benefit Fund, a $10 billion Washington, DC-based pension fund.
"It was a delightful afternoon. Robert Klein had me laughing the whole time, and the stories in his book bring me back to my youth.  Enjoying events of this caliber with our neighbors and friends is something I look forward to when we move into The Club," said future resident Barbara Schlactus from Scarsdale.
Mr. Klein, who is a resident of Briarcliff Manor, has entertained audiences for more than four decades. He was the first comedian to appear in a live concert on HBO and has since performed nine one-man shows for HBO, the most recent being "Unfair and Unbalanced." He has appeared in numerous feature films, and his acclaimed career on Broadway has included "They're Playing Our Song," for which he received a Tony Award nomination for Best Actor in 1979. Robert Klein has made more than 100 appearances on The Tonight Show and The Late Show with David Letterman. He began his illustrious career in the 1960s with the famed Second City theatrical troupe in Chicago.
The June 7th event with guest star Robert Klein is part of The Club's exciting, ongoing program of activities that gives people a taste of what life will be like at The Club and helps form the community before it is even built.  For more information about The Club and other upcoming events, please visit online at www.TheClubBCM.com or call (914) 923-4050.
Located on the former site of King's College and the historic Briarcliff Lodge, The Club at Briarcliff Manor is a fee-for-service continuing care retirement community under development featuring 325 spacious apartments, townhomes and villas with best-in-class services and amenities. The Club offers a variety of entrance fee refund programs with pricing starting at $419,900.