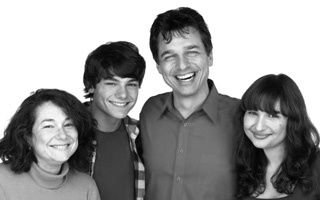 With Mother's Day just passed and Father's Day within reach, now is a good opportunity to reflect on good old mom and dad in some positive light, whether it be their love, their teachings, or their sincere consideration.
As we grow older, it becomes simpler to find evidence of the fact that parents are more than merely "boo boo" kissers, bedtime story readers, and gourmet chicken nugget chefs. We ultimately become largely aware of the sacrifices they have made for us, and the substantial amount of effort they put in to get each job done properly and effectively for our own sake. We are always conscious, however, of our parents' love for us, even from a young age.
A parent's individual personality is what makes him or her so loved by their children. Briarcliff High School Senior, Emma Flihan, and Junior, Jessica Lynch, describe their parents to be a combination of many personalities.
Above, Emma Flihan with parents, Peter and Dina, and brother, Joey. When speaking of her mother, Emma said, "I would describe her as being generous because she puts the needs of our family before those of herself, quirky since she is a funny person who has many different interests, and organized, yet disorganized because she is smart enough to be able to put things together quickly, but often tends to be flighty."
More than anything, Emma stressed that her mother is caring, not merely towards her family, but towards those whom she has barely met as well. Emma affectionately refers to her mother as "the heart of the family, the glue that holds us together" mainly because she is a strong woman with personal integrity who "keeps it all together."
Emma recalls one of her most cherished memories of her mother during her tenth summer on a family trip to Disneyworld.
"My mom stood online for 20 minutes just to meet Eyore and take pictures with him," she said. "That day, I was able to see my mom in her purest form. She's always really affectionate, but it was great to see her inner child revealed."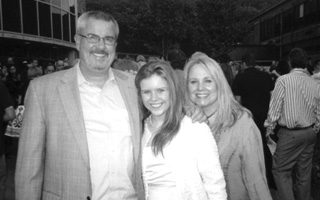 Jessica shared a different memory of the day she came home upset after a day of being teased at school.
"After advice and hugs, my mom took me to the Westchester Mall, where we ate dinner and spent time together. It was a spontaneous evening that made me realize that my mom truly loves me and will do anything to see me smile. I know that no matter what happens in my life I have her to rely on because she'll always be there for me."
Jessica admires her mother for the way she cares about the people in her life, and makes them feel good about themselves.
In a similar respect, both had much to say about their fathers.
"He's charismatic with an infectious smile," Emma said. "He has a lot of personal strengths, but most of all I admire his ability to relate to others. He knows the more proper manners of communication, and is able to fluidly connect to people of all age groups."
She noted his great worldliness, when recalling the summer months he spent reading Treasure Island to Emma and her brother.
"He has a lot of knowledge, mainly because he thoroughly enjoys reading. He's the biggest reader I know! In fact, he's largely responsible for cultivating my own appreciation of books," she said.  
Jessica chimed in by reflecting on a scary moment in her life when her father stepped in and saved her.
"At five years old I was just learning how to swim. I took a risk and jumped off a high diving board at the pool, and found myself in trouble when I realized that the water was much too deep. The lifeguards didn't spot me in time, but my dad did! He jumped in and rescued me, just like he always does when I'm in sticky situations."
Jessica describes her father as someone who is hardworking and optimistic, yet crazy. She notes his wild side and love of thrills, like an old passion for cliff diving, which she believe has encouraged her to be open to taking chances and trying new things.
Both students had direct messages to their parents that they found important to include.
Emma: "I want you to know that I love you both. When I go to college this fall, I hope you know that I'll stay in touch because I legitimately want to speak to you, not just because I have to."
Jessica:  "I love you so much Mom and Dad. I couldn't ask for better parents!"
A note to keep in mind: a core component of a parent's portrayal of adoration is buried deep within reprimanding. Of course parents give us a hard time, often about what we perceive to be minute concerns, but they always allow their love to surface between the dense hollering and nagging. Parents' comforting warmth can occasionally boil over as they have a steady tendency to show how much they care through concerns.
Parents will always care for you and put you first, simply because they love you.
[blockquote class=blue]Zarah Kavarana is a Briarcliff High School student.[/blockquote]