Over the past few months, Ian Driver  has familiarized himself with a Disney classic. The indefatigable Briarcliff director and SUNY Purchase educational coordinator unwaveringly decided to take on Aladdin Jr. with a hefty cluster of 40 middle school students.
Between singing, dancing, and acting, the performers were a triple threat, telling the tale of young Aladdin, a street urchin, and Princess Jasmine. The two meet in Agrabah's marketplace after Jasmine flees from the palace, frustrated with her life there. They are quick to fall in love, but face tremendous difficulties in finding a life together since Jasmine can only marry royalty. With the help of a genie and three wishes, Aladdin becomes a prince in hopes of wooing over Jasmine. Through his journey, Aladdin learns that above all, he has to believe in himself. With nothing but inborn charisma and natural intellect, Aladdin has to trust that Jasmine will marry him for who he really is.
Driver and his team bought the appropriate materials and license rights to music and three hour-long performances (June 1-3). Aladdin was a student favorite with limited shows to choose from. They had to find one that was fit for younger voices and abilities that also allowed room for training. Compared to a high school student, a middle schooler is much less developed, especially vocally. Most of these students are also too young to have had much experience in the performing arts, and therefore, it is Driver's job to introduce them to the art form. On stage, he fosters meaningful teaching experiences by incorporating the use of a small, simple set, and no microphones. He wants his students to embrace the true essence of acting, which includes learning to speak clearly and loudly while performing.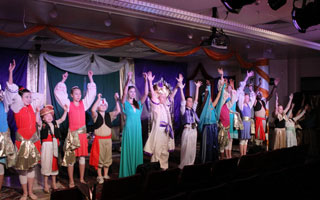 The teaching, however, didn't just go one way. Going into the show, Driver claims not to have known the story of Aladdin at all. He acknowledged that nearly all children know it, especially girls, and his students were more than willing to teach their director a thing or two, filling him in on details he wasn't aware of. As a unified cast and crew, they explored the unknown Arabian nights, discovering and learning together.
"Performance is important to an extent," Driver said. "However, from my point of view, content is more important."
Rehearsals were initially held three afternoons a week for two hours. As show dates approached, rehearsal time increased. Although initially, all cast and crew members were called in for a week of auditioning, followed by another week for orientation. For auditions, students were asked to read scenes and participate in singing and dance activities. When not in performance, students were evaluated on their character [portrayal]. Orientation week further broke down the story, allowing middle school students the opportunity to familiarize themselves with the show and music.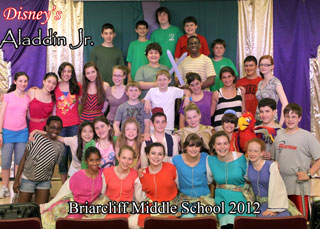 Driver has directed the middle school musicals for all seven years that the program has been running. This year, however, it welcomes a new production team – truly making it a whole new world. With much help from music director, Howard Kilik, assistant director and vocal coach, Regina Leon, choreographer, Lauren Scollins, and technical director, James Britt, the production came together. Driver believes that the show was one that people expected a lot from, in all aspects. Responsibilities were shed on each member whether it may have been as technically complicated as getting the magic carpet to fly or as strategic as finding a spot on stage for everyone in this ensemble show.
In his director's notes, Driver referred to Aladdin's experience by saying, "As a company, we, too, have had to trust ourselves and build new relationships if our work was to be satisfying and rewarding."
Driver gives much credit to his 10 high school mentors, many of whom are his own current and previous students. Various behind-the-scenes jobs were offered to these mentors, but whether they were the stage manager or costume supervisor, they were all were role models for middle school performers. Driver describes their most important positions as giving advice, passing down traditions, and teaching about responsibility. All mentors were offered community service hours in compensation for their efforts.
As one of Mr. Driver's many students, I can say one thing: his lessons are meaningful on stage and off. The manner in which I have been able to apply them to everyday life has been advantageous, to say the least. I'm more aware of cold droplets of water, pant seams, and grains of sand, simply because they compose our set. On stage, everything has a purpose, just like in life. I've learned to appreciate little tidbits spackled here and there, which are of little value to the untrained eye.
Thank you, Mr. Driver. Your middle school students have much to look forward to.
[blockquote class=blue]Zarah Kavarana is a 2012 Briarcliff High School graduate and intern at River Journal.[/blockquote]