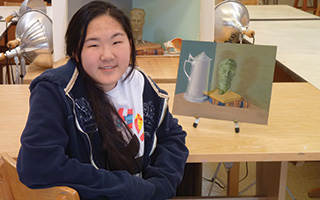 Spring has finally arrived, and this month it brought the students of our regions' schools some creepy carrots,  a Statewide chemistry title, and a food allergy musician.
At right, National Silver Key Award winner Victoria Xu of Briarcliff Manor
High Schooler Wins National Silver Key Award
Briarcliff High School Junior, Victoria Xu, was awarded the National Silver Key Award for her oil painting entitled, "The City that Never Sleeps." A component of the Scholastic, Inc. Art and Writing Program, the National Silver Key Award is a nationwide contest open to students in grades 7-12. Winners can earn scholarships or have their work
professionally published or exhibited. Entries are judged on originality, technical skill, and a personal voice or vision. This is the second year in a row that Xu has been honored, as her entry last year won her a Regional Silver Key Award.
Middle Schoolers Create and Fill "Empty Bowls"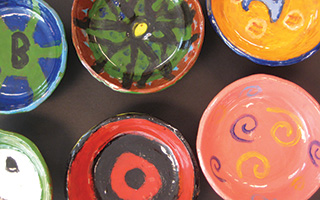 On Wednesday, May 14, Briarcliff Middle School hosted an Empty Bowls Dinner, featuring handcrafted ceramic bowls created by students in the seventh grade art classes, benefiting the Westchester Food Pantry. Guests chose one of the more than 80 hand-painted, personalized bowls made by the students and filled it with a simple meal of soup and bread. They were then asked to donate to the Westchester Food Pantry, a local non-profit organization which helps feed the hungry.
This is the first year that Briarcliff MIddle School has participated in the Empty Bowl Project, which is an international project. "The idea is to help end hunger," said Jessica Dubin, the coordinating teacher for the event. "Sharing a simple meal of bread and soup is something in which we can all participate."
Destination Imagination Team to Compete for Global Title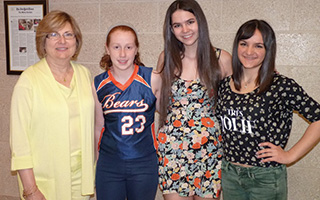 After placing second in the statewide Destination Imagination competition, Briarcliff High School's team of freshmen, Olivia Banc, Kylie Elwood and Rebecca Strauss, and junior Matthew Ellis were headed for Tennessee to compete for the global title. The worldwide, creative problem-solving program features teams of up to seven students using science, technology, the arts, service, engineering, and mathematics to tackle one of seven provided problems.
The Briarcliff team chose "Dig In," which required them to design and build a device that could detect and remove objects hidden inside containers. In addition, the team had to create an artistic skit to accompany their theme. Their performance, a parody of "Willy Wonka," involved a tour of McRonald's Fish Patty Factory.
"The DI program is very worthwhile," said Olivia. "I enjoy building random things in my garage and I think DI helps you to realize that you can make something work out if you really want it enough."
Kindergarteners Enjoy Author's Creepy Carrots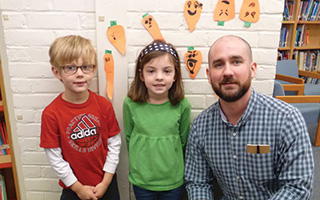 Children's writer and illustrator, Peter Brown, visited Todd Elementary School this month and entertained the school's kindergarteners with his stories and illustrations. Illustrator of many New York Times bestsellers, Brown's illustrations in 2013's "Creepy Carrots!" earned the book a 2013 Caldecott Honor award, and Todd Elementary's library media specialist, Tara Phethean, helped the students honor the award by creating and placing their own "creepy carrots" in mysterious spots throughout the library.
Mr. Brown, whose visit was made possible through the generosity of the Todd PTA, showed the students the first story he ever wrote, entitled "The Adventures of My Dog Buffy," talked with them about his inspirations, and read from his successful children's book, "Mr. Tiger Goes Wild."