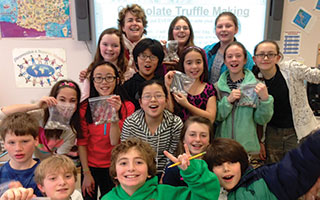 Middle School Students Create Hand-Made Truffles for Valentine's Day
Briarcliff Middle School French students celebrated Valentine's Day by making an assortment of traditional French treats. They pre-made a chocolate truffle mixture earlier in the week and spent February 13 crafting their chocolate treasures, which they then brought home to their families for Valentine's Day.
At right, Briarcliff Middle School French students made chocolate truffles during class to take home to their families for Valentine's Day.
"It's cultural, yet a fun way to spend the day before vacation," said French teacher Nancy Kress. "We spent the class time scooping, rolling and dipping the chocolate balls to create chocolate truffles."
Briarcliff Names 2015 Teacher of the Year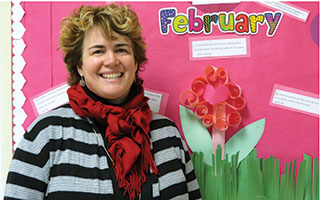 Superintendent of Schools James Kaishian announced Briarcliff Middle School teacher, Nancy Kress, as the 2015-16 Teacher of the Year.
"Those who know Ms. Kress are not surprised by her selection; she is universally trusted and admired," Superintendent Kaishian said. "Her skills as a teacher, her leadership and her signature smile are an inspiration for both students and colleagues alike.Bon travail Mademoiselle Kress!"
Since joining Briarcliff Middle School in 1997, French and Spanish teacher Kress was elected to the board of directors of the New York State Association of Foreign Language Teachers as director for the Westchester region. She is also a team leader and former curriculum coordinator at the middle school, and has served on numerous school committees.
Kress thanked middle school Principal Susan Howard for her support during their time together at the school. "With your guidance and leadership, I have flourished and have really been able to enjoy perfecting my craft," she told Howard. "My job here at Briarcliff brings me daily joy and fulfillment."
High School Fitness Center Receives New Arc Trainer Device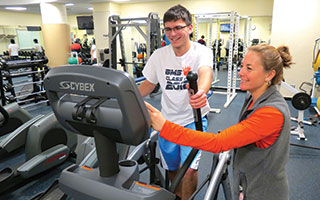 Students at Briarcliff Manor High School have a new state-of-the-art arc trainer in the school's fitness center, thanks to the generosity of the Briarcliff Manor Education Foundation. "The arc trainer is a machine that adds to the cardiovascular component of our fitness center," said A.J. Thau, physical education coordinator for grades 6-12. "It offers a synergistic workout that entails running and elliptical training and is easier on muscles and joints than a traditional treadmill."
The fitness center also extended its hours to allow more students access to the arc trainer and other equipment, opening its doors to students from 3:15 to 5:15 Monday through Thursday.
Boys Basketball Team Finishes Wild Playoff Ride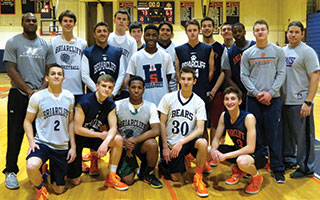 The Briarcliff High School boys basketball team advanced to the finals of the Section I Class B tournament at the Westchester County Center by defeating Irvington 33-32 in the semifinal match thanks to senior forward Jeff Blair's two free-throws in the final 35 seconds of the game. The victory was extra special for Briarcliff because
Irvington defeated them in last year's playoff.
Briarcliff then fell to defending champion Woodlands, 56-50, in the Class B final.
National Honor Society Hosts Blood Drive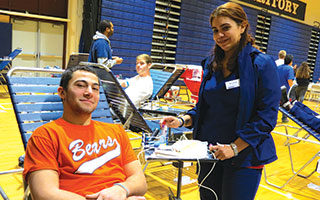 More than fifty people donated blood on February 13 at Briarcliff High School's National Honor Society annual Blood Drive. "We have had parents, teachers and mostly students come in and donate," said National Honor Society Co-President Brian Ziltner. "They want to help other people. During an NHS meeting, we watched a film about how a blood donation saved a leukemia patient's life. It
really can be life-saving."
Volunteers guided donors from station to station in the high school gymnasium, and ensured that all properly recuperated before being allowed to leave. The New York Blood Center recently reported an emergency need for blood donations because of the heavy snowfall this winter, and Ziltner said his donors were happy to answer the call.
Musicians Entertain and Educate Todd Elementary Students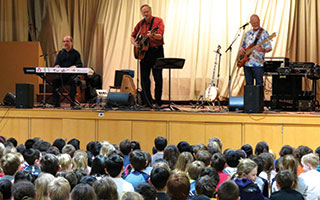 On February 4, folk musician Tom Chapin  and the members of his band visited Todd Elementary School for a day of positive messages and catchy tunes. Students sang verses in American Sign Language, heard about the importance of recycling and accepting people from different backgrounds, and got up close and personal with a variety of new instruments including an Irish flute, harp, accordion, and banjo. Some of the children's favorite songs performed by Mr. Chapin included "Don't Miss the Bus," "Clean Machine," and "Family Tree."