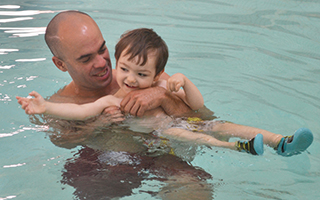 "One step at a time" is a common sense approach, but not everyone practices it. For a child with special needs, it's a recipe for success.  So says Club Fit Master Water Safety Instructor, Assistant Swim Coach and Lifeguard Marc Quintiliani, who teaches students of every age and skill level, but has a definite connection with a particular group of students.
At right, Master Water Safety Instructor Marc Quintiliani and a young student
Marc, a former mechanic who has been with Club Fit for five years and has been a swimming instructor for close to fifteen years, loves to see his students realize they can accomplish what once seemed out of reach. "I like breaking down their walls," he says of his special needs students. "It's especially rewarding when I hear parents say they can't believe what their child is doing, milestones they couldn't imagine reaching," he says.
Most parents opt for private lessons, which is helpful because Marc can focus on a child's particular needs, and "one step at a time" is key. "The first thing I focus on is getting them to be comfortable with me," he says. He tries to schedule these lessons when the Aquatics Center is quiet, so the student doesn't have to deal with sensory overload. On the other hand, a certain amount of distraction can sometimes be helpful with children who are nervous about being in the water. "One of my students had a previous bad experience, so I gave him things to do like counting drills to take his mind off of being in the pool." Another boy would get in the water but actual swimming was a particular challenge… today he is comfortable swimming in all areas of the pool. "I try to get the kids to let their guard down and just relax," says Marc.
Kaleb is a current student whose grandmother Linda Schulman can't say enough about the strides he's made. Kaleb, who turned three on August 2, had a stroke at a very early age, leaving him with motor issues, and one side of his body weak and less functional. Hoping swim lessons would strengthen him, but not completely optimistic, Linda turned to Marc, and has seen improvement in the short amount of time that Marc has worked with her grandson. "Kaleb has a great attitude, and our sessions got even better after I realized that he sometimes uses sign language to communicate," said Marc, who now supplements his vocal praise with encouraging signs. "We focus a lot on getting him to use his left side more, since that is his weaker side." Linda is extremely happy with his progress. "Kaleb is almost fearless in the water now," she says.
Marc's experience includes more than 10 years of competitive swimming, including Junior Olympic, County and State meets. He currently has a diverse clientele at the club, including everyone from his special needs kids, to triathletes, to seniors. He also serves as Assistant Coach for the Club Fit Swim Team under Head Coach Bill Walsh, and has seen a great improvement with the team. "We had some work to do, but the kids are starting to come together and I'm excited about the upcoming season," he says, which begins in September.
As for kids like Kaleb, Marc will continue to work his magic and help them achieve what once seemed impossible. "It's great to see the kids succeed," he says. "They come in thinking they have so many limitations, and realize that it's not so hard to overcome them."
For more information on programs available, contact braquatics@clubfit.com.