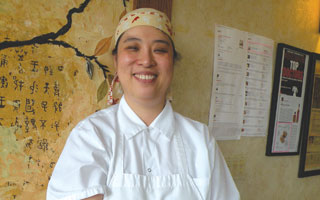 There are many delicious ways to enjoy locally sourced food near Briarcliff Manor. There is the arguably unsurpassed quality of eggs to be found for sale at the Stone Barns Café, or the cider pressed from heritage apples at Thompson Mill and Orchard in Croton-on-Hudson. This time of year, however, it is the home-made treats available at two Briarcliff Manor cafes that I am particularly enthusiastic about.
Most of the time I choose to forgo desserts or sweet treats…too many calories…too much sugar.  With the holidays approaching, I am in search of really special treats I can share with family and friends.
Above: Minyoung Cho Yamaguchi of the Jiki Café and Bakery
It was with sheer delight that I first bit into a French macaron at Jiki.  Not to be confused with a macaroon, those super sweet blobs of coconut we all know well, the French macaron is a meringue cookie made out of almond flour and egg whites and filled with flavored ganache and buttercream. They are gluten free and under 150 calories each. They are so delicious that one macaron is all you really need to deeply satisfy a sugar craving.
The French macarons are made by Minyoung Cho Yamaguchi who, with her husband Masaaki Yamaguchi, owns the Jiki café and bakery in downtown Briarcliff.
Min, as she is known by her friends, was born in Korea but moved to Japan as a teenager. In Japan she studied under a French Pastry chef and married her Japanese fiancé. They currently live in Briarcliff.  The décor and the ambiance at Jiki are carefully created to provide a peaceful and beautiful experience. Everything, from the food to take-away boxes, is carefully crafted and reflects Min's artistic nature.  They serve sushi and other Japanese meals as well, and they always serve green tea free of charge to anyone who comes in, as a means to extend the graciousness and ritual of Japanese culture. Min has several flavors of macarons as well as other bakery items such as cakes made with marscapone and berry jam, all of which are lighter and lower in sugar than your typical American bakery.  The macarons come in a variety of flavors and are often seasonal.  These might include salty caramel macarons, or ones made with orange marmalade, inspired by Min's mother.  She imports rare ingredients such as cherry blossoms from Japan for the spring, mango macarons for the summer, or my son's favorite, Shisho leaf and white chocolate, named the "Briarcliff" by Min. (He has asked for a plate of them instead of a birthday cake this year!)  You will find that the colors are gorgeous and diverse and make for a beautiful presentation. A box of Min's macarons would be a very special hostess gift or an addition to a holiday buffet. They are best kept in the refrigerator but brought to room temperature before serving. Jiki is located at 1116 Pleasantville Road, Briarcliff Manor and is open Monday-Saturday from 9am to 8pm.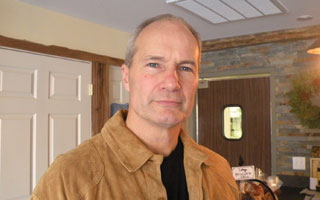 If chocolate is what puts a smile on your face and you have been a little blue over the thought that Hostess will no longer be making their ring dings and hohos, then it is time to visit Tastefully Yours Café.  Owner David Loesch is well known in the area for his catering business which serves the Sleepy Hollow Country Club, Historic Hudson Valley, the Rockefeller Brothers Fund as well as private catering affairs.  Many are not aware, however, that Tastefully Yours has opened a café to the public who can now enjoy his scrumptious meals for lunch or take home to their families. You can call and find out what he's making for the day!  Tastefully Yours is located just past the downtown area across the street from Holbrook Cottage and up the hill a bit.  David prides himself in the quality of the food he prepares, using organic chicken and wild caught salmon. It is because of the quality of his ingredients that his small desserts and cookies are so special.  In particular he makes tiny little malomars, ring dings, and oreo cookies which beat the originals hands down. They are fabulous and people of all ages will adore them.  You can buy a box of these chocolate goodies as a gift or you can order platters of them ahead of time for a party or business event. They are so flavorful that their tiny size allows everyone to enjoy, even those who think they can't.  He also carries little frozen chocolate lava cakes which you can heat up on demand and mini pumpkin cheesecakes; also noteworthy are his raspberry rugelach and his lemon madeleines.  Tastefully Yours is located at 1250 Pleasantville Road in Briarcliff Manor and is open from 8am-6pm Tuesday through Friday, Saturday 8am-3pm and closed Sunday and Monday.
Everyone is busy over the holidays and it makes perfect sense to buy what you need locally. These desserts really are special and homemade. It warms the cockles of my heart to know that I can actually have my cake and eat it too this holiday season.