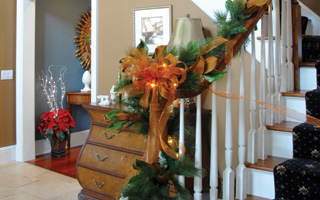 If ever there were a way to catch the holiday spirit, joining in the Festive Stroll of Homes this November 16 and 17 is it!  Area designers, as busy as Christmas elves, will decorate four unique area homes, creating holiday magic early in each.   Attendees will easily slip into the holiday mood, while viewing the beautiful homes, creative decorating and breathtaking views.
Home Tours:  Friday, November 16,  10:00 am -12:00 noon &  2:30 pm – 4:30 pm and Saturday, November 17,   10:00 am – 3:00 pm
A delightful Dickens Luncheon, celebrating the 200th anniversary of Charles Dicken's birthday will be held at Sleepy Hollow Country Club on Friday, November 16th from 12:00 noon to 2:00pm. The festivities will
continue at Holbrook Cottage in Briarcliff Manor with a Wassail and Champagne reception on both days after the Stroll.
Tickets to the Festive Stroll of Homes are available online at www.ossiningchildrenscenter.org as well as at Holbrook Cottage at 12553 Pleasantville Road, Briarcliff Manor.  For more information or questions please contact Shawn Cribari, Director of Development of the Ossining Children's Center, this year's Festive Stroll of Homes beneficiary.
Tickets to the Stroll and Luncheon at Sleepy Hollow Country Club in Briarcliff Manor are $150.00. Tickets to the Festive Stroll only are $50.00.  Benefactor and Patron level tickets are available.
Of the four unique homes, three will be decorated in a Christmas theme and one as a "Harvest Home."   One is beautifully situated directly on the Hudson, offering magnificent views.  Three are in Briarcliff Manor and one in Tarrytown. Traditionally, the location of all homes remains secret until the day of the Stroll when attendees are given maps and addresses of the homes.
Four area designers and one homeowner who is passionate about Christmas decorating, will be the creative forces behind this year's Stroll.  Designers Christine Wetzel of Christine Wetzel Designs, Carol Welsh of C .Welsh Design, John Gualtiere of Hudson Landscapes and Sue Bicksler Taub of Holbrook Cottage will be creating the beauty and magic of the holidays just in time for Stroll participants to re-create them in their own homes.
For example, Christine Wetzel, of Christine Wetzel Design, has revealed that her home will be an "interesting dichotomy of modern and traditional. With ornaments collected and passed down through the years creating the traditional overtone, paired with the modern sweeping Hudson River views. "It will be the 'old fashioned' house, she says, based on the birthday of Charles Dickens!"
A Briarcliff Manor home will be the "Ol' St. Nick" home, featuring whimsical designs by Vietri, the leading creator of Italian ceramics. Handpainted in Tuscany, with each individual stroke painted directly on the fired surface, the Ol' St. Nick patterns are charming in their design and strikingly clear in their detail.  This newly renovated classic house blends beautifully with this updated version of decorating with classic Ol' St Nick.
Another Briarcliff home, to be decorated by Carol Welsh of Carol Welsh Designs, will feature a delightful "Harvest Home" feeling.  In warm autumn colors, this home will have a nature theme and two delightfully decorated trees…one creatively done all in acorns and the other featuring whimsical sculpted animals.  Two tabletop vignettes create visuals that can be used at home.
The fourth home will be decorated by the homeowner, who takes Christmas so seriously that her own wedding had a Christmas theme with decorations by Frank Lanning that included a beautifully decorated tree and poinsettias gracing a winding staircase.  Influenced by her mother and grandmother who loved to decorate for Christmas and collect beautiful ornaments, she started her own collection shortly after she was married, with Byers Choice Carolers figurines of a Mr. and Mrs. Santa Claus.  The collection has grown to over 100 figurines, all delightfully reminiscent of Dickensian characters.
Different areas in her home display different themes—from the Criers of London, with figurines reminiscent of the Dickens era selling their wares, to a Nutcracker-themed room, and the dining room dubbed the "candy bowl" in candy cane red and white with figurines of a photographer with an old fashioned camera taking photos of children with Santa.  An antique village with iron figures is set up under the main tree complete with frozen pond and swirling ice skaters.
The love of Christmas and importance of preserving the family traditions of this holiday are apparent in this home.  We are fortunate to be invited into its lovingly preserved magical space as we are reminded and perhaps inspired to create and continue traditions of our own.
The Festive Stroll of Homes has an interesting history of its own.   The kernel of the idea came from Sue Bicksler Taub, whose college roommate told her of the Spring Tea Walk among the Victorian Homes that took place in Naperville, Illinois.  As Sue says, "My spin was to make it a celebration of homes decorated for the holidays. I thought it would be a great community event to kick off the Thanksgiving and Christmas seasons and a way for Holbrook Cottage to give back to the community.  In Naperville, the favor of the event was a teacup that the people collected year after year.  We decided to make a
personalized ornament as the yearly Festive Stroll favor."
The first Festive Stroll, which was twelve years ago, was run by two ladies, Sue Bicksler Taub and Barbara Zinke, and had just two homes on the tour. The stroll raised approximately $10,000 and the beneficiary was the Open Door.  Sue was on the Board of the Ossining Children's Center for six years and at that time changed the recipient to the OCC.  Over the years, the Stroll has raised close to one million dollars for different charities, validating Sue's original hunch that it would  indeed be a great community event  and wonderful way to give back to the community. Over time, other community leaders involved in home décor and landscaping, such as John Gualtiere of Hudson Landscaping, Carol Welsh and Christine Wetzel have  become involved and generously volunteered their time and resources to be part of this collaborative  effort of giving back.
Personalized Favor, Wassail, Champagne and Byers Carolers Raffle
Stroll attendees are invited back to Holbrook Cottage each day after the Stroll for an old fashioned wassail and champagne reception and to receive their personalized ornament favor for 2012.  A percentage of all purchases made on both days will be donated to the Children's Center.  All Byers Choice Carolers devotees will want to take note that there will be a raffle of two figurines, a Scrooge and an Ol' St. Nick, signed by Joyce Byers, profits again going to the Ossining Children's Center.
The recipient of this year's stroll will again be the Ossining Children's Center (OCC) which serves as a community resource and advocate for families and provides quality care for children in a safe, nurturing and enriching environment while their parents work.
The Center was founded 117 years ago to provide educational and enriching care to the children of immigrant women whose husbands were killed or disabled while working on the railroad or the Croton Aqueduct.  The importance of providing a safe environment for children, to allow families to work, is as important now as it was then. In these difficult economic times the Center has become a much-needed
resource for working parents throughout the community.
The heart of the Center's mission is its generous tuition assistance policy, which makes their programs affordable for working families of all income levels and is supported by gifts from many individuals and businesses in the community.  With the recent cutbacks in subsidized childcare spending, support is needed more than ever. The benefit of early childhood education to the future of our communities is an invaluable investment.