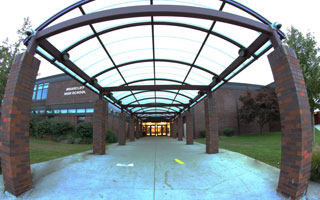 On the brink of emulsifying a new life outside of Briarcliff, fellow members of this year's graduating class lament on leaving behind a home that has offered security and comfort over the past 18 years.
Four years ago, we were approaching our entrance into high school. Our eighth grade graduation seemed to wipe away the very essence of young childhood that we still shared. Diplomas in hand, we embraced, holding on to the fibers of our past that had been glued together by afterschool clubs, recess, and field trips. As we milled through the crowd, we cried for what would become of us. High school was simply scary.
This time, we are no less scared. Reality has suddenly come along and slathered us in sloppy fears of stepping into the real world. We leave behind the fond guidance of our parents and teachers in an attempt to become independent individuals.
In the fall, we will all find ourselves nestled in closet-sized dorm rooms amongst empty pizza boxes and patriotic college banners. Some, like Sophie Phillips and Allison Colarusso, will be making the five-hour drive up to Rochester, New York – Sophie to Rochester Institute of Technology and Allison to University of Rochester. Others, like Phil Grossman, will be joining me in Massachusetts. He will be attending Tufts University, while I situate myself at Boston University.
In light of new beginnings, these members of the graduating class reflected on their experiences in the Briarcliff schools, and how they have permanently affected them.
"I believe Briarcliff truly stands out from other schools in the area. It's a place  you can count on for an excellent education," said Phillips. "BHS is filled with enthusiastic, energetic teachers who are eager to help students clearly identify goals and provide support in their quests to fulfill them."
Phillips recalls the impact of one teacher in particular – Mrs. Carol Conti, who teaches Chemistry. During junior year, Sophie found the comfort she needed in Conti, who supported her with generosity of both time and encouragement to help her master a challenging course. Phillips deems her beloved former teacher "extraordinary."
As reported, only 626 students attend Briarcliff High School. This year's graduating class is slightly on the larger side, however the small-school feel remains. Colarusso recalls her own experiences regarding attending a small-school.    "I think there definitely are benefits in small classes and knowing everyone around you," she said. "This is a very friendly environment where students accept and embrace each other's differences. Though it has its share of drama and cliques – like any other school – there generally isn't any bullying."
Another senior, Samm Kim, said, "I feel that if there were more students, I would have found more friends I connected with. That being said, it allows for a smaller teacher-student ratio, giving students more individual attention, which they need."
Grossman agreed by pointing out the comfort in seeing familiar faces each day, but qualified his argument by saying that, "Briarcliff lacks much diversity, which would have been nice to experience."
In a report conducted by the New York Times, Briarcliff's diversity was statistically weighed out. A majority of students, approximately 84%, are considered White, while 4% are Black, 3% are Hispanic, and 9% are Asian. In addition, only 1% percent is considered poor. Although our student body may not be the most diverse culturally, between the football players, actors, and linguists, we tend to share a variety of interests and talents that unify us. There are a number of opportunities to express ourselves, including art shows, dance shows, games, dramas and musicals, international festivals, concerts, and more.
All four seniors agreed that between the teachers, the students, and the support that bound them, the overall Briarcliff experience was definitely a good one.
Phillips said, "In part, my experience was so great because of the excellence of the teachers, my personal choices, and the friends I chose to connect with and stay close to. I feel exceptionally prepared for college and equally excited to make wonderful friends who share similar values and interests."
Kim agreed by saying, "I have learned a lot about myself and the world around me. BHS is generally a very safe and open-minded environment that I appreciate having grown up in. I definitely feel that I have benefited from being surrounded by many peers who are stimulating and have a desire to learn and succeed."
Although undecided on which college he will attend in the fall, Kim plans to take up a fine arts major. Phillips hopes to study Biology and Medical Illustration, while Colarusso aspires to study Chemical Engineering. Grossman will major in Cognitive and Brain Sciences.
As for me, Journalism is my intended major. Briarcliff has cradled me since I moved here in the second grade. The simple thought of leaving is unfathomable…  I've never known anything different. I've truly enjoyed my time in school, and appreciate the gifts Briarcliff and its remarkable teachers have provided for me. As I wobble through uncertainties over the next four years, I will remember those who shaped me and guided me in my past. They can surely expect a phone call. Off to Boston the little Briarcliffian goes.
[blockquote class=blue]Zarah Kavarana is a graduating senior at Briarcliff High School and an intern at River Journal.[/blockquote]