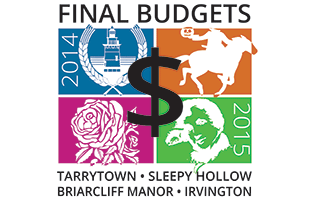 The Village of Briarcliff Manor Mayor and Board of Trustees passed their 2014-2015 budget on April 29th. Village Manger Phil Zegarelli posts a weekly report on the Village website,
www.briarcliffmanor.org
.  Located under news and announcements, information about the new budget was shared.
Adjustments to the spending levels were made so that the Village will be in compliance with the New York State real property tax revenue cap.  Phil writes,
"For the Village of Briarcliff Manor the adjusted cap was 2.62% and the budget calls for an increase of 2.56%. Let's set the record straight: rumors/bloggers notwithstanding, in the last 6 budget years, before there was a 2% tax revenue cap which was instituted by the Governor 4 years ago, we have been able to stay under a 2% increase."
With the 120-page 2014-2015 budget adopted, individual tax bills will be mailed to residents on or about May 31, 2014.
In addition to property taxes of $10,436,061, anticipated General Fund revenues total $15,368,253, revised 1.8% higher than the projected budget. Other revenue projections include Sales Tax – $1,210,000, Utilities Gross Receipts Tax –  $205,000, Franchise Fees – $178,000, Rental of Wireless Property – $238,004, Mortgage Tax – $226,000, Building Permits and Application Fees – $365,000, and Parking Lots and Fees – $330,000.
Other funds budgeted are: the Water Fund at $5,107,776, the Library Fund at $612,392 and the Debt Service Fund at $3,642,801. All funds total $24,731,222.
Effective June 1, 2014, new Building Department rate and fee charges will go into effect.