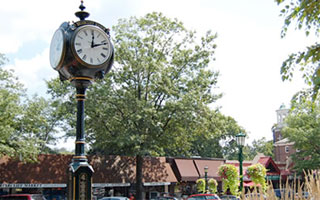 This June marked the end of my ten-year relationship with the Briarcliff School District. I had been a member of the 152-person class of 2012 ever since the second grade when my family moved to Briarcliff.
Following the many years of anticipation, college has finally arrived in full splendor. As of this past September, I have moved 200 miles away out of my comfort zone of the "Tree Streets" and Briarcliff's many twisting roads. I now reside at Boston University with 33,000 undergraduate and graduate students, in the City that unites us all.
Adjusting from a small town to a big city wasn't necessarily the simplest task I had ever taken on. I had lived in the quaint Westchester suburbs my entire life, sheltered from any trace of busy streets, loud city noises, or public transportation.
[blockquote class=blue]I have moved 200 miles away out of my comfort zone of the "Tree Streets" and Briarcliff's many twisting roads. [/blockquote]
Looking back at my first semester, I would have to say that mastering navigation through Boston via the "T" has been one of my greatest non-academic achievements thus far. The T is comparable to the New York City subway, which I had never been very well acquainted with, so I was essentially a fish out of water. Between the Green Line, Blue Line, Red Line, Yellow Line, and their separate branches, it's fairly simple to get lost if you don't know your way around. I managed to find my way home during my very first venture out into the city. My friends and I ended up on the wrong train that led us to a suburb of Boston. We had to figure out our way back using a map and the three brains we had. Since then, I've practically memorized the major T stops. Public transportation isn't as scary as it seems.
Another great disconnect between city and suburban life has to be the amount of noise heard on a daily basis. Briarcliff streets are relatively silent with the occasional sound of a car driving by or children playing in their backyards. Past 8 pm, the town is dead quiet. Here in Boston, I've become accustomed to sirens, construction sounds, and human chatter. The City is awake at all hours, and action is never sparse. Initially, hearing so much chaos was quite strange for me. For the first few days, highway noises kept me up at night and distracted me as I studied. Eventually, it all became mere background noise. When I go back home, I'm shocked by how quiet it is. Although there are numerous places to take a break from city clamor, there really is nothing like the peace we experience in the suburbs.
As for life on campus, it's not easy to give up everything you've always known and start over, but I like to think that I've adjusted well. I had the comfort of knowing that I wasn't alone. My fellow freshmen were all making the same journey I was – one that was devoid of any sort of classified normalcy. So far, I've joined a number of activities, such as the BU Choral Society, Society of Professional Journalists, and The Daily Free Press, BU's independent student newspaper. I enjoy the classes I'm taking, and the friends I've made. Some of my closest friends would have to be my two roommates. Growing up an only child, I've never had to share my space with anyone before. I wondered how I would be able to so suddenly shift to living with not one, but two people; however our living situation has really worked out quite smoothly. We were fortunate enough to all be placed together as like-minded individuals who have the same habits and interests. Our large room and gorgeous views of the Charles River and BU's Nickerson Field are only pluses to our well-working friendship.
Undoubtedly, I miss my family, friends, and all that Briarcliff has to offer. After getting to know people my age from different parts of the country, I can easily determine that Westchester is unique from all the rest. It's an irreplaceable gem that I'm fortunate to call my very first home. Boston will just have to settle for second place.  ©