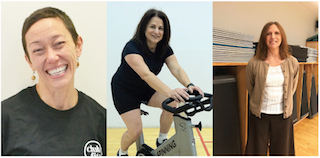 Liz Mallon, Olivia Kapush  and Karen Cornetz are three women from different backgrounds who have found themselves all on the same journey. Through years of dance, and health and fitness instruction, each of them found their respective ways to Club Fit. They have thrived as teachers, instructors and members of the community. Club Fit is proud of their achievement with the ACE Hall of Fame, each being certified by the American Council on Exercise for 30+ years.
Photo: (From L to R) Liz Mallon, Olivia Kapush, Karen Cornetz
During the early 1990s, Karen was running her own successful dance studio in Yorktown Heights. But even then, she knew about Club Fit and its reputation for not only offering top-flight fitness, but also for giving back to the community. "That was one of the reasons I wanted to work here," she said. "Because the Club does so much for the community." In 2001, she joined Club Fit as the Group Fitness Manager, and has been with the Club ever since. "Coming here was like coming home," she said. "Because I knew so much about the Club and the reputation it had."
All three women have been involved in Club Fit's various community efforts, ranging from Think Fit for Kids to Relay for Life. They've also worked hard to form positive, long-lasting relationships with the members. Liz Mallon, who brings to the Club an extensive dance background, which includes a prestigious Alvin Ailey Scholarship, has earned a reputation as being a strong and supportive teacher whom members can turn to when facing all sorts of crisis situations. "I am passionate about learning, laughing, and teaching what I love," says Liz. "It is a synergy — I give what I have and in return get back so much more — gratitude, smiles, energy, dedication.  I am truly blessed." She brings both her dancing and personal skills to the Club's assorted Zumba and Pilates classes. "She's a real talent," says Karen. "And she's very warm, kind and personable. She's the kind of instructor who really represents what our core values are about."
Similarly, Olivia Kapush, who came to the club in 2001 after teaching in lower Westchester, has won over many of the members with her excellent teaching style and kind, approachable manner. Kapush got her start teaching aerobics, but has been a spin instructor for the last 18 years. "In spinning, even though we ride as individuals, we come together as a team," says Olivia, "and members cheer as a new person makes it through their first ride!" "She's made a lot of friends over the years," Karen said. "The members always tell her what a difference she's made for them. Her classes give them something positive to look forward to."
Now, after so many years of serving the community and the members of Club Fit, all three women have been named to the American Council on Exercise's Hall of Fame. "We consider it a great honor to be ACE Hall of Famers," said Karen. "We feel very fortunate to be teaching this long and to continue to be working with Club Fit and its members.
However, as welcomed and appreciated as such accolades are for all three ladies, the real thrill comes each and every day when they step into the studio to begin another class.
After so many years of teaching, that thrill hasn't dissipated and Karen says that she doesn't see that happening anytime soon. "We plan to teach until we can't do it anymore. It's a part of us — a joy and a privilege to assist members on their journey to health and wellness."
About Club Fit:
For 45 years, Club Fit has focused on enhancing quality of life and physical well-being for members of all ages. In addition to the Club's state-of-the-art facilities and comprehensive programming, Club Fit is also an active member of the local community. Founded in 1973, Club Fit operates clubs in Briarcliff Manor and Jefferson Valley, serving more than 10,000 members and their guests.