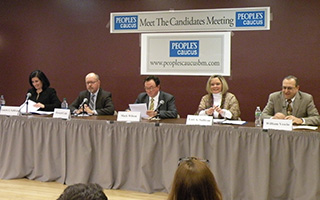 The Briarcliff Caucus held its "Meet the Candidates" forum Wednesday night, January 16th, at the Briarcliff Middle School. Those that ventured out on the cold and damp evening were rewarded by the remarkable warmth and congeniality of the candidates and Caucus members.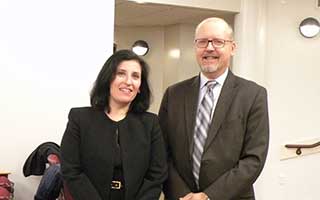 The meeting had that unmistakable small town feel to it with Acting Justice Laurie I. Sullivan bringing her daughter Katie, a ten-year old fifth grader at the Todd School, with her.  Her political opponent, the previous Acting Village Justice Howard Code, was accompanied by his wife, Susan, and their son Ethan.
The meeting began with Caucus business, voting on several resolutions including the resolution for election of the Executive Committee, for Caucus endorsement for Mayor and Trustee candidates, and a resolution to amend the constitution/bylaws. All were passed.
The forum itself included a two-minute opening presentation from each candidate, Mayor William Vescio reaffirming his commitment to keep taxes at bay and to focus on Briarcliff's fiscal health as well as to move forward with finishing the community room. Trustee Lori Sullivan has already served two years as a trustee. As a fifteen-year resident of Briarcliff, a practicing lawyer, wife and mother, she looks forward to serving Briarcliff again. Mark Wilson, a new trustee candidate, reminded us of his commitment to Briarcliff and brings his CFO and CPA analytical skills to the table.  Howard Code who is running for town justice against Laurie I. Sullivan, spoke about his nine years as Acting Justice and his experience with the range of responsibilities that the job entails. He looks forward to the challenges they present. Laurie I. Sullivan, who has worked for the New York State Court system for fifteen years and is Acting Justice in Briarcliff, stated that her most important roll is that of a mother.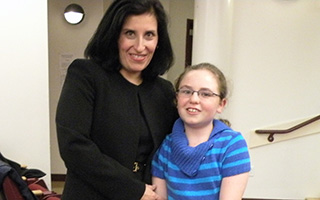 A question and answer session followed which included questions about concerns over the erosion of Scarborough Park and what can be done about it, and the inequity of paying taxes to Ossining and not receiving any benefit from it.  There were questions concerning the potential sale of Pace University and the impact that would have on Briarcliff. All these questions and more, with  their responses, can be seen on Channel 15 on Jan 19 at 3:30 pm, January 20 at 1:30pm, January 21 at 8:30am and Jan uary 22 at 11:00pm.
The tough choice for Briarcliff Residents will be choosing between Laurie I. Sullivan and Howard Code for Village Justice, the only contested race.  They are both experienced with the job and dedicated to Briarcliff. We ar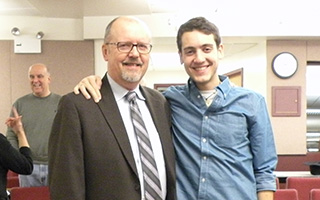 e fortunate to have a choice between two such outstanding residents. A question was raised about having two justices in Briarcliff in the future. It's too bad we can't have them both now.
The Briarcliff People's Caucus is looking for volunteers to serve as poll workers for the election. If you are interested please contact Aaron Stern. You can e-mail him at sternab@aol.com or call his office at 914-923-3343. There will be a special voting meeting for any contested positions, from 3-9 pm in the Village Youth Center on January 23.