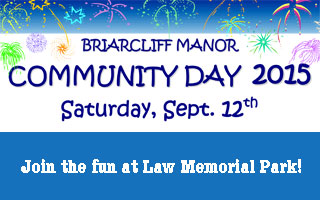 Community Day 2015 will take place on Saturday, September 12. There will be a lot to see and do at Briarcliff Manor's annual Day. All activities take place at Law Memorial Park from 12-6 pm. The Village Pool will be open as well during those times for one last chance to swim. No permits are required. At 3:30 pm there will be a "Big Splash" contest.
New this year are the Bumper Ball Bubble Soccer Games from 3-6 pm and for ages 10 and up. There are
also family activities and attractions on the field from 4-7 pm. An Egg Toss contest begins at 6 pm.
Community Group Information and Fundraising booths will be open from 4-7 pm. The Briarcliff Manor
Rotary Club food tent will serve from 4-8 pm and fireworks followed by the annual DJ Dance Party will
round out the day.
For all the details, download a flyer for the event!