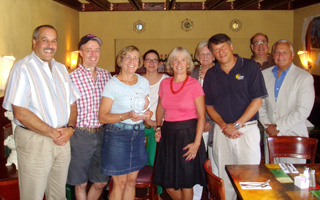 At their August meeting this week, the Briarcliff Manor Chamber of Commerce recognized former Village Trustee and founding member of the Chamber, Elsie Smith, for her unflagging support of, and numerous contributions to, the vibrant business community of the Village.
Board of Directors of the Briarcliff Manor Chamber of Commerce, pictured left to right:  Carl Weiner, Donald Borho, honoree Elsie Smith, Carol Welsh, Jan Wagner, Sue Bicksler-Taub, Eric Messer, Jerry Gershner, Howard Chwatt.
While serving as Village Trustee, Ms. Smith was a founding member of the Merchants' Association (predecessor of the Chamber) and instrumental in launching efforts geared towards supporting a healthy business community.  After leaving office she continued her hard work as  founding member and Secretary of the Briarcliff Chamber of Commerce.  Ms. Smith is retiring from her office in anticipation of her family's move to Vermont.
Chamber President Eric Messer presented Ms. Smith with a gift and, speaking on behalf of the entire business community, lauded her for her infectious civic pride and dedication to the betterment of the life of the Village, and noted she will be sorely missed by all who have had the privilege of working with her.