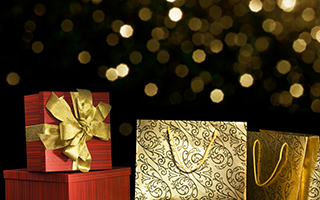 The holiday season is a perfect time to treat yourself to the treasure trove of independently owned shops, restaurants  and businesses lining Pleasantville Road and beyond.  The warm, personalized service they offer will remind you of a gentler time when you looked forward to shopping for a special gift, clothes, or planning a catered event.  A time when shops were staffed with sales associates knowledgeable about their business and took pride in offering their customers outstanding customer service and value.
Many times the store owner assists with the selection and gift wrapping of your purchase.  This is the service you will experience with independent small businesses of Briarcliff Manor.
From apparel to home accessories, gourmet foods to wine and spirits, the latest and best the marketplace has to offer is here in Briarcliff Manor.  You'll find a meat and seafood market offering Italian specialties, a family-owned Italian restaurant, wine and spirits stores with large and unique selections, an extensive art gallery, and for gifts and apparel, Wondrous Things and L3 Couture.  Highlighting more of what you'll find:
Tastefully Yours...Stop in the cafe for lunch or plan your next event with caterer/owner David Loesch, New York Times 4 star chef.  Known for excellent cuisine beautifully presented, the experienced staff makes entertaining a pleasure.
Holbrook Cottage…You'll find something for everyone on your list in this shop.  The best in home decor, tabletop, and holiday decorations from The Cottage, specialty foods and beautiful custom-designed gourmet gift baskets from The Market,  and personalized baby gifts from Baby Cottage.  Holbrook Cottage ships anywhere in the US.
March Boutique…"A taste of SOHO right here in Briarcliff Manor" says owner Lynn Puro.  A go-to destination for the fashion forward, March boasts a well-edited selection from more than 60 designers and an experienced sales staff.  For the men on your list:  a chic selection of ties, watches, and tee shirts.
Good Food…Eat in or take out, career caterer/chef John Cambral offers all-natural lunch and dinner menus using organic and locally produced ingredients.  "Incredibly wholesome food served in a wholesome way by the delightfully friendly owner" is how one regular summed it up.
C. Welsh Design…Offers design service in interior space planning, furnishing selection, color consultation, custom floor plans, textiles, window treatments and accessories.  Carol Welsh, certified by the New York School of Interior Design, says her role is to listen to the vision and needs of each client in order to create uplifting spaces that reflect their individual style and taste.
Paint Track…A fresh coat of paint makes all the difference.  Founder Ray Rahni targets his company's services towards residential dwellings and light commercial establishments.  Clients Stephanie and Craig of Westchester and NYC said, "You and your crew did a fantastic job of making our homes just what we wanted."  Another Briarcliff business offering excellent personalized service not normally found in a chain store.
Every weekend from Thanksgiving through December will feature a fun and special event in the shops along Pleasantville Road.  As part of their year-round support of community and local charities, a percentage of all sales December 14 and 15 will be donated to Make A Wish.  Stores will be open 7 days a week beginning November 28.