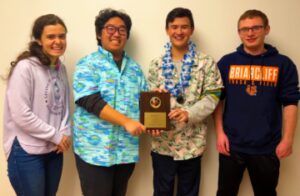 Maybe it was the free Oreos, or wearing Hawaiian shirts, but whatever it was, members of the Briarcliff High School Academic Challenge Club recently won first place in the A division of the Metropolitan Academic Challenge Conference (M.A.C.C.) tournament against 11 schools from Westchester and Connecticut.
The team, composed of seniors Tevin Kim (who is also a River Journal intern) and Meggy Mani and juniors Gordon Beckler and Nate Tannen, went undefeated, 5-0, throughout the competition. Propelling them to the championship was a record-setting second round, where they scored 425 points, which earned them the top seed going into the semifinals, where they defeated Ardsley High School. The team then emerged victorious from a nail-biting final round against Byram Hills High School.
The M.A.C.C. is a regional competition that is similar to Quiz Bowl. Two teams of four compete over the course of four distinct quarters.
Using Jeopardy!-style buzzers, students respond to questions pulled from topics learned in any core subject class, as well as other sources of trivia, ranging from music and art history to geography and sports.
"The Briarcliff Academic Challenge team hosts weekly meetings every Tuesday after school that are open to everyone," Tevin said. "The best way for us to prepare for the types of questions in Academic Challenge games is to remember what we learned in class and apply what we know to make inferences and educated guesses."
During the meetings, students also read about subjects that they are passionate about – from Broadway musicals and classical music to presidential campaigns.
"The most important thing is that we are all able to complement each other's strengths and weaknesses," he said. "We have learned to trust in each other, give each other the space to succeed and build off of each other's knowledge bases to arrive at the right answer, and I think that has helped us win. Getting free Oreos at the club meetings and dressing up in a Hawaiian theme also helped," he joked.
"Congratulations to the Academic Challenge Team on their amazing victory. Go Bears!" said club co-advisors Gilana Reiss and Christina Rutledge.