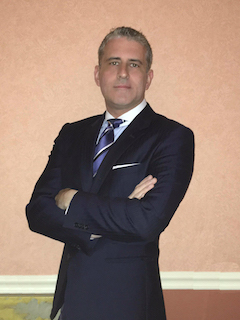 A family tradition continues in Dobbs Ferry as Joseph N. Casario is the new proprietor of Edwards Dowdle Funeral Home located at 64 Ashford Avenue. Named after his grandfather, Joseph is a third generation funeral director. The original business, Casario Funeral Home, was started in 1935, in the Bronx, NY. It was there that Joe's grandfather and father, Leandro (Leon) worked together providing services like a place for gatherings, coffins or signature headstones, and cremations for families in their time of need. That element of sensitive service was ingrained in Joseph at an early age.
Photo: Joseph N. Casario
In 1971, Leandro built the Lincoln Park Funeral Home on McLean Avenue in Yonkers. Joe worked there while he was in high school and his responsibilities included doorman, pallbearer, and parking attendant. At that same time he worked for Jon Edwards, whose family owned the original Edwards Funeral Home. While working alongside Jon Edwards, Joe met Jim Dowdle. The three of them became great friends.
Joe completed his education and became a licensed funeral director in 1991. In 1997 he opened up the Jewish Memorial Chapel in Yonkers along with his sister, Liz (also a licensed funeral director) and his father, Leon, until the elder Casario passed away in 2009. In 2010, he sold the building on McLean Avenue, however, remained in the funeral business.
Being a good friend of Jim Dowdle, Joe acquired Edwards Dowdle Funeral Home in 2016. As Joe would say, "It was meant to be." As a member of the rivertowns community he resides in Ardsley with his wife Carolyn and his children Christopher and Victoria who both attend Ardsley High School.
Edwards Dowdle Funeral Home's new owner says simply and sincerely that no family will be turned away because of lack of funds. He also takes pride in the new addition to the funeral home, a chapel that can seat up to 275 people and a parking lot that can accommodate over 60 vehicles.
Regardless of people's needs during their time of loss, Joseph Casario and his staff are there to help and to listen.
For further information call 914-693-3330 or email info@edwardsanddowdle.com