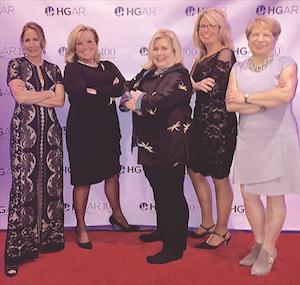 Marcene Hedayati, Principal Broker/Owner of William Raveis Legends Realty Group, with four offices in the Rivertowns, was just recently installed as President of the Hudson Gateway Association of Realtors (HGAR) for 2016.  HGAR is comprised of close to 10,000 members, covering four counties — Westchester, Rockland, Putnam and Orange, and is the 17th largest association in the country.  As a participant of the Hudson Gateway Association of Realtors, our members are bound by the strict Code of Ethics of the National Association of Realtors. 
This year, HGAR is celebrating its 100th year anniversary.  The Annual Installation Gala was held at the Ritz Carlton in White Plains on January 21st, and was the first of many special events planned for the year.  Hedayati's speech, delivered to over 300 people who attended the event, was based on John F. Kennedy's quote:  "Change is the law of life.  And those who look only to the past or present are certain to miss the future."  She stated that so much has changed over the past 100 years.  "Almost everything is digital now.  The world-wide-web has redefined the real estate agent's role and we are no longer just the gatekeepers of information."  She was quick to point out that the public's expectations have changed and therefore the industry must change along with them by providing a different set of services.
She expressed thanks for the efforts of past presidents, directors and committee volunteers, for their commitment to furthering the professional development of its members.  She went on to say that the focus for 2016 will be to use all avenues of communication to reach all members and urge them to take advantage of the many tools available to them through the Hudson Gateway Association of Realtors.
Hedayati feels that there is nothing more rewarding than being part of a group of your peers who, by sharing ideas, are able to create endless possibilities. Under her leadership, the association will continue to develop strategies designed to protect and support members going forward.  She feels that everyone has a unique perspective and a specific set of skills that can only improve the chances of prevailing in a landscape that is ever-changing.  In following suit, she, along with her partners, vow to continue to support their agents' endeavors and keep Legends Realty Group's mission alive.
Legends Realty Group is an independent affiliate of William Raveis Real Estate. It was founded in 2007 by five of the area's top-producing agents:  Elvira Aloia, Mary Case Friedner, Marcene Hedayati, Phyllis Lerner and Karen Stroub. Their goal, from the start, has been to create a unique team-like atmosphere that fosters higher standards and unsurpassed service. Since their affiliation with William Raveis Real Estate in January 2011, Legends has opened an office in Briarcliff Manor in May 2011, Irvington in May 2012 and Hastings-on-Hudson in April 2014.  The number of agents has quickly grown to sixty-five, to date.  This remarkable growth has afforded them the position of being one of the fastest growing real estate companies in Westchester County.