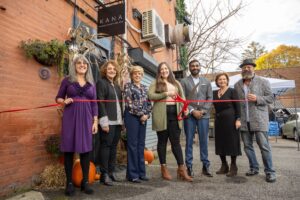 KANA Physical Therapy & Wellness kicked off their grand opening with a ribbon cutting ceremony on Thursday, November 9th. This Rehab & Performance studio is led by Dr. Nicole Kana, Doctor of Physical Therapy. Nicole's mission is to "bridge the gap between health and fitness by providing people with access to a unique, individualized approach to healthcare". Her programs are designed to help people overcome nagging pain and injury so they can get back to doing the things they love.
You can find her boutique studio at 47 Main Street nestled in the back of the building, where the design of the space was created to reflect her philosophies.
Learn more about KANA PT & Wellness by vis­it­ing www.kana-pt.com.